Disclosure: This post may contain referral/affiliate links.
New Horizons Snorkel Adventure
This was our day sail to St. John and it was awesome! We took a taxi from our resort to a local marina in St. Thomas. From there we took off on our adventure to Caneel Bay, St. John National Park, Honeymoon Beach and Christmas Cove.
Our crew, Captain Steve Miley and Bill were wonderful. I had never been on a sail boat like that before and it took my breath away. The New Horizons snorkel adventure is all-inclusive and included fresh muffins and juices for breakfast, an open bar, hot gourmet Italian lunch (with plenty of vegetarian fare) and much more. They also offer dinner cruises and sunset sails.
We were a bit worried that Kevin would get sea sick but he had a blast and had no problems whatsoever. The sail boat moved a lot on that active sea and I was the one that thought I might have an issue. Definitely an experience and one that I would have to really think long and hard about doing again.
But we loved the beach and snorkeling.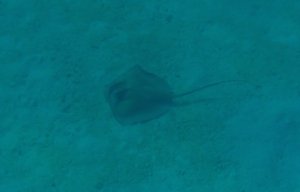 I'm not sure that I would make it on a day sail to the British Virgin Islands, which was offered to us at one point instead of this one. I'm so glad we chose to stick with this one!
There were other passengers aboard but it never felt over crowded. Everyone was pleasant and we had a real good time.
The were beautiful fish, stingrays and the biggest puffer fish I had ever seen along with grouper and other sea creatures.
The beach was so serene.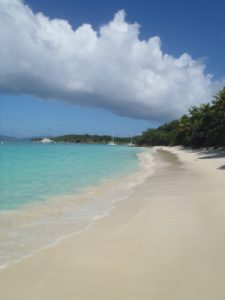 Good times!
And don't forget, you can see more pictures about our experience over on the Paradise by Marriott's Frenchman's Reef blog. This trip was from Saturday, November 12th if you want to see more pictures.