Disclosure: This post may contain referral/affiliate links.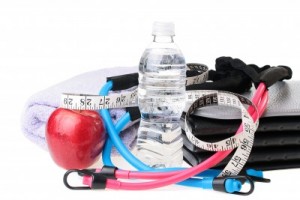 Oh my am I totally embarrassed at this weeks workouts (I did ONE).  But nothing I can do to change it now except to try harder this week. And with my new online personal training and Best Body Bootcamp starting this week, I AM going to make it happen.  I am going to make the best of the next 8 weeks and beyond.  I have so many big goals I need to meet.
So this week didn't start out good with workouts and I did have good intentions to make it better BUT we had a big set back this past Friday when our kitty broke and fractured his leg. Ever since then we have been tending to him after he had a major surgery Friday night.  Picked him up Saturday afternoon and have been trying to get into a routine.  He will be confined to a dog crate for the next 6-8 weeks (almost as long as the bootcamp). Then he'll have another surgery to remove the pin in his leg and yet another recovery after that.
It will be a struggle to make time with everything going on especially for the next 2 weeks when I have to take him to the vet every other day for cold laser therapy. OH MY I'm just stressed thinking about it.  And of course, I'm blaming myself because I was carrying him when he jumped out of my arms and fell wrong.  It's a horrible feeling and I'm trying hard not to keep thinking back at what I could have done differently.
Not sure what the lesson in all this is going to be…Kev and I were planning to take a trip to celebrate our 40th (mine) and 50th (his) birthday's in April but obviously that is out the window now (but we are OK with it because are pets are family so you do what you have to do). So we'll be hanging out here at home for the next few months.
Anyway, here is my ONE workout from last week
Wednesday-
*Rebounding & upper body
Time: 20 min.
Calories burned: 206
Oh yes that is awesome ha ha
So the goal for the next 2 weeks is to get up early to workout and shower before Kev goes to work.  That way he can help me get Franklin in the crate to transport him to the vet.  Any good thoughts would be appreciated and prayers for a speedy recovery for our darling kitty. He's only 10 months old.  And our other cat doesn't know what to make of it all so it will be a big adjustment. They were best friends and now it's like they are starting over like when we first brought Franklin home after we adopted him.
Thanks for listening *wink*
How did your workouts go this week?