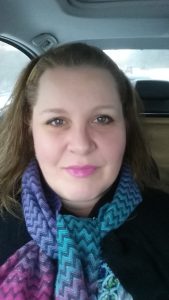 Nice to meet ya! I'm Angie, 46 year old wife, stepmom & super cool grandma to 4 girls (18, 15, 12, and 6) and a preemie baby boy. I LOVE iced coffee. Cold brew preferred. Sushi. And I also have a mermaid obsession lol
I have worked as a virtual assistant 13+ years, love animals and am a reality TV addict. I'm a former hotel front desk supervisor and teacher.
My hubby Kevin and I have been married almost 22 years (on New Year's Eve) and live in IL. I'm originally from Northern Virginia. Here's how we met!
We have 2 cats, Wilbur and Franklin and a Blue & Gold Macaw, Bam Bam. We love to travel especially anywhere that includes snorkeling. My hubby and I have a travel blog that we hope you'll check out!
Speaking of being a grandma, that is one of the things I'm most proud of and want you to be able to share in that joy too. We have 5 grand kids. Hunter, the newest addition is a preemie, born 3 months early in April 2018. Isabella is 6 and in 1st grade. Our oldest granddaughter's are Emily (18), Rhyanne (16) and Lily (13).
For a while I have been stressing a lot over having numerous blogs to keep up with and contemplated going in a new direction so I'm combining most everything into one 'lifestyle' type blog. I have gone back and forth over this for many years and for a while it worked out fine to have separate sites but it's time for a new direction. Are you ready?
This blog has been a weight loss and fitness blog since 2008 called losingitandlovingit.com. And now after 10+ years of blogging, it will be a combo of health & fitness, daily life, house & home, pet talk, grand kids, beauty (I really need help in that department) and more. I'll be keeping my business/social media site and our travel site separate for now.
I am SO very excited about this change and hope you will be too. It's been a while since I have felt that special spark. And I feel it's coming back. With only four years to go until I hit the big 5.0. this is perfect timing to change things up a bit.
What shall we call it? A midlife, live your best life makeover? LOL
Kevin and I dream of one day living on the water (lake or ocean please) AND I have big dreams of traveling all over the U.S. in an RV/camper. It will be fun to see where we end up so follow along!
Connect with me
If you are into fitness and want to be inspired to live a more healthy life, I have a monthly fitness challenge you should join.
Be sure to subscribe below to keep up with all the fun times on Her Grand Life.
Thank you for taking time out of your day to visit and get to know me better.
Feel free to contact me with any questions.