Disclosure: This post may contain referral/affiliate links.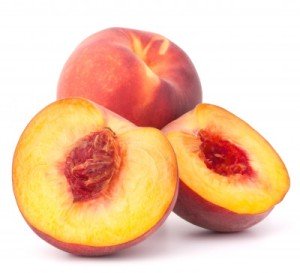 It's August, National Peach Month.  I wanted to share some yummy peach goodness with you.  I love fresh peaches!
Peaches have very little calories and no fat. They also contain lots of vitamins, minerals, fiber and more.
Great to top things like oatmeal and Greek yogurt or cut up and throw into smoothies.  Here are some healthy peach recipes I found on Pinterest.  I can't help myself, I love Pinterest.
FitSugar has some healthy peach recipes on their site. I love the sound of grilled peaches & the vegan, gluten-free peach cobbler.
This summer peach and balsamic pizza sounds refreshing. And who doesn't love a tasty peach smoothie?
Or how about this Peach and Roasted Vegetable salad?  I would love it with quinoa!
Oh I am so craving a healthy peach cobbler, check this one out!
So many yummy recipes, I could go on and on.
Happy National Peach Month!
Do you like peaches?  What is your favorite peach recipe?