Disclosure: This post may contain referral/affiliate links.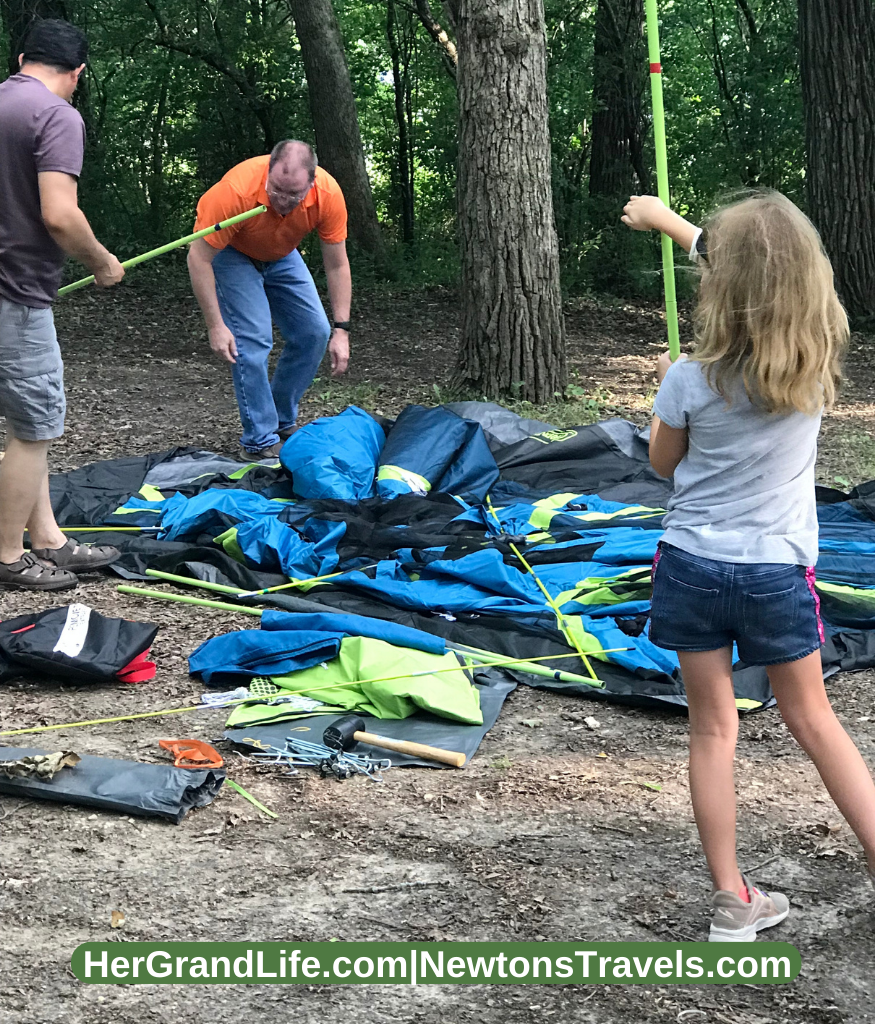 Beginner Tent Camping Tips for the Best Way to Set Up Your Campsite
Need some beginner tent camping tips? Here are some ideas for the best ways to set up your campsite.
There are many things to consider when setting up your campsite: the rules of the specific location where you're camping, the environment you'll be in, and what you plan to do while you're there. Here's how to layout a campsite plus 9 camping tips to consider for an enjoyable camping experience.
How Do You Layout a Campsite?
When you first arrive at your campsite, walk around to figure out how to layout your campsite. You'll want to figure out the best location for your tent (or RV), cooking and eating areas, pop up bathroom tent, etc. Now read on for 9 tent camping tips for an enjoyable tent camping experience.
9 Tent Camping Tips for An Enjoyable Camping Experience
Setting Up a Campsite for Tent Camping
Setting Up Your Tent – Once you have found the most flat space with hardly any rocks, use a small rake to clear the area. Lay out a tarp and then place your tent on top of the tarp(s). We love easy pop up/instant setup tents. Once you have your tent and cover set up, either roll out your sleeping bags or blow up your air mattresses.

How Do You Camp Comfortably In a Tent?

I personally was a little bougie and liked to have outdoor carpets for inside our tents. It helped a lot so you weren't always walking on rocks or uneven ground. It was SO much more comfy. We recommend these air mattresses (we have 2 twins and a King one of this same brand):
Where You'll Cook – This is important, because it will let you know how you set up everything else. In some cases, where you sleep might be different from where you cook depending on the guidelines set for the campground or other location. Some campsites offer grills and picnic tables and prefer you use them for cooking. We have used campsite grills and also our favorite Solo Stove cooking bundle!

Where You'll Wash Up – Some campsites have public showers, some don't. You can bring baby wipes, biodegradable camping wipes or use a pop up shower tent with a solar shower for a quick wash. When we went tent camping, we did the bucket shower method using a shower tent. I wasn't so sure how it would go but after the first time, I was a pro.






Here are my bucket shower pro steps.
1) Set up shower tent (one side will be for the shower, the other side for the 'toilet'…see below)
2) Fill solar shower bag with water and set in the sun all day.
3) Fill a bucket or two depending on how many will need to shower, the men always used the public showers at the state park. I tried that once or twice. Bucket shower at the campsite was MUCH better.
4) Back to setting up the shower tent. On the shower side, use something like these to stand on unless you don't care about wet grass underneath you. I would always pack a shower bag with all the necessities like camping soap, washcloth, water cup to rinse off suds and a towel. Don't forget a comb and whatever else you might need. See below for setting up the other side of the shower tent (your portable camping toilet).
5) When taking a bucket shower, wash the most important parts first just in case you run out of water. And be prepared for the water to still be COLD. Whether you leave it in the sun or use an electric kettle to heat water to pour over the cold water already in the bucket, the water will still be cold. Ask me how I know. Ha!


Where You'll Go to the Bathroom – This is simple if toilets or outhouses are available but if not or you're like me and prefer not to use those, pick up a pop up privacy tent like I mentioned above. Bring a 5 gallon bucket (separate from the one above for shower water of course) and a toilet seat to act as your toilet. You'll need this eco Gel and compostable toilet bags. Put the toilet bag in and then sprinkle one packet of eco gel into it. Then place the toilet seat on top, securely! Now you're ready to use the bathroom. I prefer this to an outhouse or public bathroom. You can thank me later.


The Size of Your Group – Where you set up really depends on the size of your group. It's better if you and your group stay as close together as possible when sleeping and eating so that you can keep a close eye on everyone. We like to reserve 2 camping spots though so we have enough space to spread out and park our cars. We still do this sometimes even with our travel trailer.


What Type of Wildlife Is in the Area – In some areas bears are common, which means you'll need to have ways to lock up your things to keep them safe when you're out exploring away from your campsite. Other areas have snakes, spiders and other creatures that you should know how to protect yourself from. We have only encountered raccoons.


The Rules of the Campsite – Remember to always read the rules/guidelines of the specific location you're camping. For example, the place we stay in Illinois does not permit alcohol. They have guest visitation rules and close at certain times. Make sure to follow the rules or you could be kicked out or worse get a big hefty fine.


How You Plan to Store Food – One of the most important considerations about your campsite is how you're going to store food. Remember that you could attract bears, raccoons, and other animals if your food is not securely put away. And don't store food in your tents! Remember above where I said we have only encountered raccoons?

Those little stinkers can really make a mess. We are usually really good about emptying trash at and putting heavy totes on top of coolers at night. On one of our last camping trips, we thought we brought all of our food into the trailer. Joke was definitely on us. We had a hilarious show that night and a bit of a mess to clean up the next morning. Things happen.


Fire Safety – The best course of action is to use existing equipment for fires and don't make a new fire pit. If you do need to make a fire pit, use rocks and keep the area free of leaves and other debris. We hardly use the campsite fire pit anymore and use our Solo Stove for warmth and over the fire cooking instead. Plus we still bring one of my favorite things ever….you can read about that here! And PLEASE refrain from starting a fire when it's super-windy. We'll probably do a post on campfire safety tips too if you're interested.

Now let's decorate the campsite.
Campsite Decorating Ideas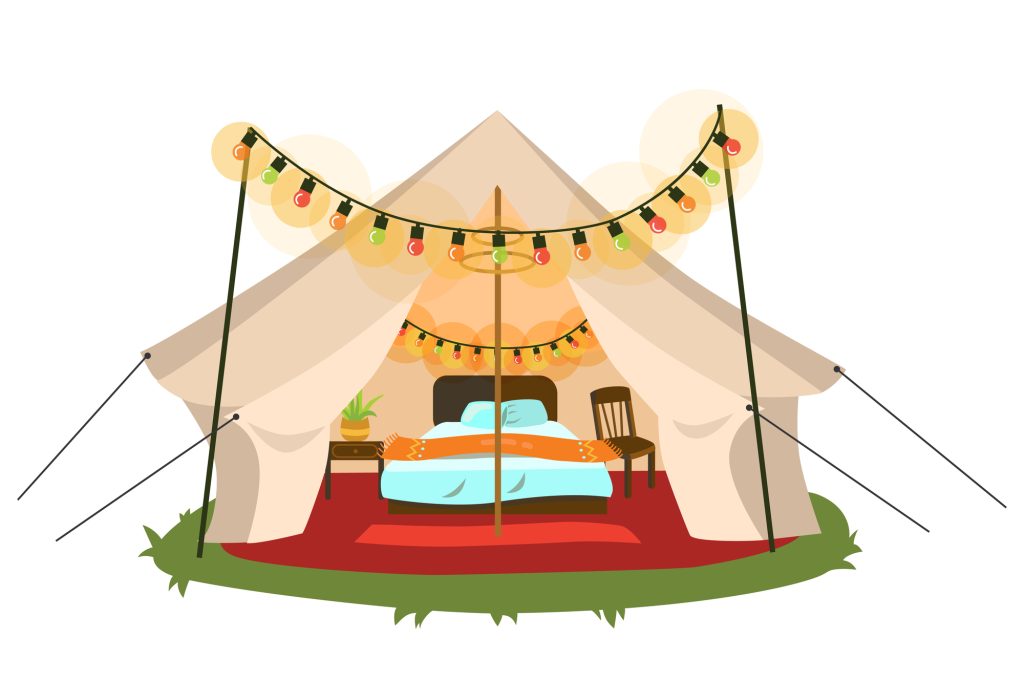 Lastly, one of the most fun parts for me is decorating our campsite. Some people overdo it. I like to keep decor at a minimum but still have fun. We have a variety of hanging lights for our travel trailer. When we were tent camping we used in ground solar lights to find our way around the campsite in the dark. We only used a couple around each tent so we wouldn't trip over the tent strings.
Our favorite hanging lights for our travel trailer are these. They have been such a hit, we have purchased multiple for ourselves and as gifts. Very affordable and something to enjoy all camping season long. Or at home all year long *wink*
We also have this hanging solar light that we keep on the picnic table and love this bright white camping lantern that even has a charging port. These retro travel trailer hanging lights are cool and we have something similar to these dragonfly lights. Love them all!
I think next camping season we want to get a campsite sign like this one. Or maybe this one from Etsy. I also like this metal sign. What do you think?
Setting up your campsite is the first thing you should do when you arrive at your destination. Plan it out in advance so that you bring all the right equipment with you and are prepared for any potential issues.
When we were tent camping, the tents would go up first. Then we figured out the food situation to make sure everything cold was put away in coolers. Then the toilet/shower tent went up next. Once the basics were done, we set up our chairs around the campfire and enjoyed some relaxation time. No matter what kind of camping you do (tent or RV), it's a lot of work.
Do you tent camp? Do you have a travel trailer/RV?
Let us know if you have any questions about setting up your campsite. We are happy to help!
Save/Pin this post for later…