Disclosure: This post may contain referral/affiliate links.
This Outland Living propane portable fire pit is perfect for outdoor living. It was high on my wish list and I had wanted it for the longest time. It's been one of the best Mother's Day gifts I have ever received (thanks honey!). And who knew I would need it so much?
I especially loved it during my Covid recovery last year. I was able to sit out on the deck and enjoy it every night. It's perfect for me now that I can't breathe easily around real wood fires since having Covid.
However we just purchased a Solo Stove (Ranger) which is more like a real campfire. It's supposed to be smokeless and will most likely cut down on breathing issues from smoke. We shall see. I'll definitely do a review on that after our next few camping trips. Have you heard of the Solo Stove?
We love setting up the fire pit in our portable pop up tent. It keeps it nice and toasty inside when it's cold outside. Of course, you'll want to leave the wind screen panels off when you do this. But grab a few chairs and some folding side tables and hang out inside the gazebo pop up tent when the weather is chilly. We didn't use it our first camping trip this season because it was way too hot.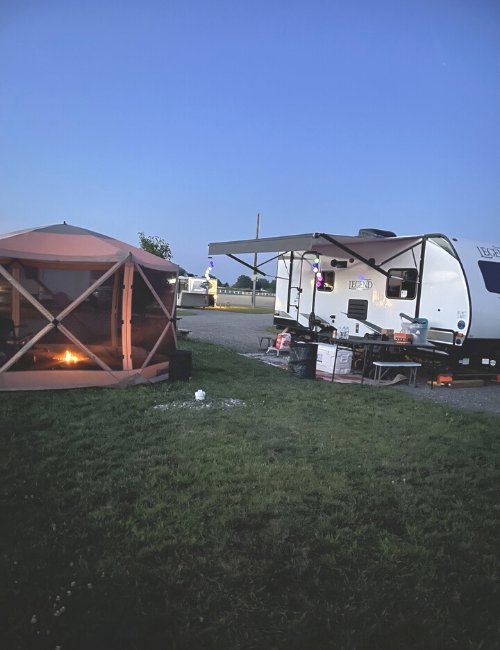 At the campground, we usually go out early in the morning with our coffee and it's nice and cozy. Super fun to spend time hanging out in there. My dad really loved it when we were in Shipshewana, Indiana last year. It's the perfect start to any day.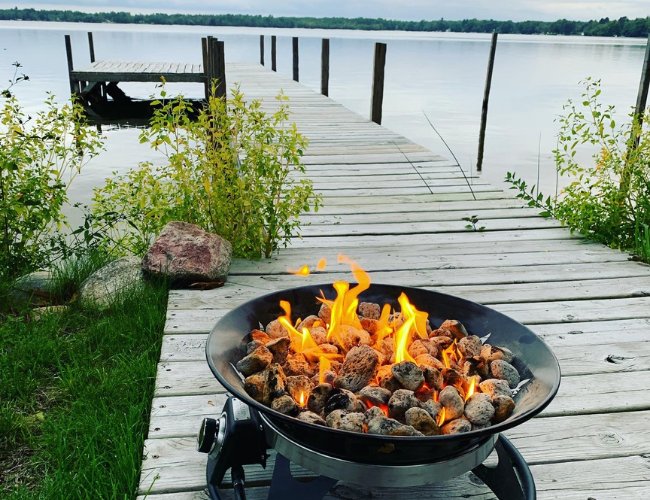 Last year we rented a lake house in Michigan and brought the portable fire pit. I'm so glad we did. We used it almost every night and even during the day when it was chilly. It's so easy to travel with. We recently bought the carrying bag for it too.
The black Outland Living propane portable fire pit we have is model 863. It's 21-inch in diameter and 58,000 BTU. Although portable, it's not compact or easy enough to carry on a hiking trip. It's smokeless and perfect for camping. Plus great for using in your backyard, on the deck or patio. We love it. We use a full size propane tank and have a propane cover with stable tabletop feature in addition to the carrying bag for the fire bowl.
Here's what they say about it, "PERFECT NO MESS CAMPFIRE: Say goodbye to dirty ash, expensive firewood, and bothersome smoke and enjoy a clean realistic propane campfire. The perfect outdoor centerpiece for camping trips, RV travels, tailgating get-togethers, beach parties, and family evenings on the backyard patio."
Fathers Day is coming up really soon and this would make a great gift. It would also make a super cool house warming gift. The best part is you don't even have to go out to buy it. Amazon ships it right to the gift recipient's address. Thanks Prime!
What's the best gift you have received lately? How do you like to relax?