Disclosure: This post may contain referral/affiliate links.
I just came across a site where you can share recipes and cookbooks.  Cookmore has so much! You can find meal inspiration, save recipe ingredients and organize yummy recipes.  I love finding recipes online because as most of you know, I don't cook much so I need to follow an easy recipe.
I set up a few cookbooks already. I'm having fun adding to them as I find yummy goodness.
You not only have access to recipes but meal planners, calorie counters and grocery lists. There is something for everyone.  Don't believe me?  Check out their free recipes online and look me up when you get signed in (angienewton).  I don't have a ton in there yet but I'm on the hunt for some great meal ideas.
I know a lot of you have awesome recipes so please upload them there so I can save them in my cookbooks *wink*
When I say they have something for everyone, they have all diets covered:
Vegetarian
Vegan
Diary Free
Gluten Free
Plus they have a TON of cuisine ideas like:
Caribbean
American
Mediterranean
Mexican
Indian
and so much more!
They have something for almost every occasion too. Need a recipe idea for Thanksgiving, Christmas, Passover, Easter, or Valentine's Day?  You'll find it here.
You can even add your own recipes to it. I haven't done that yet, because you know I don't have a ton of those but you can take a peek at what I have done so far right below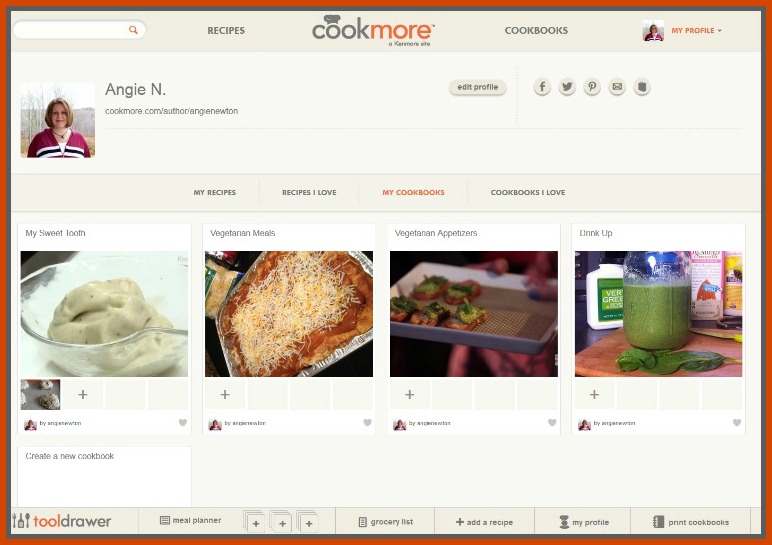 I am struggling with the limited character amount for the cookbook titles. Hopefully they will look into changing that!  I had Vegetarian Meals as one title but then I found a vegan pizza there that looked yummy. Then it wouldn't accept Vegetarian/Vegan so I changed the title of that cookbook to No Meat Meals.  Guess it will work for now.
Let me know if you decide to join up over there and drop your profile link below.  See you on the inside.