Disclosure: This post may contain referral/affiliate links.
Is your Menu Plan Monday posted yet?
I hear that my friend Cara from The Household Helper did a meal planning podcast with Laura, creator of Menu Plan Monday.  Looking forward to listening to that one.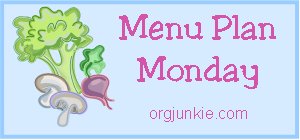 Monday-
Grilled roast with cooked green pepper sandwiches (roast and green peppers were prepared last night)
Tuesday-
Shrimp jambalaya
Wednesday-
Tuna & Soup
Thursday-
Dinner out
Friday-
Breakfast for dinner (Egg/veggie/potato wraps)
Hubby started his homemade baked beans last night but I'm not sure what night we'll have them.  They don't seem to go with anything on the menu plan and they won't be ready to add to tonight's dinner.  Hmmm (sorry to say that I don't have a recipe for these beans because he just throws things in with out calculating anything ha ha)
What is on your menu plan for the week?