Disclosure: This post may contain referral/affiliate links.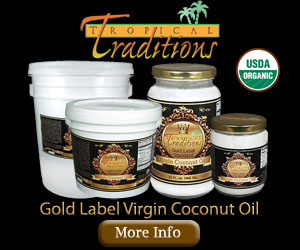 I had an opportunity to try out the Tropical Traditions Gold Label Virgin Coconut Oil. It's certified organic and traditionally made coconut oil and their producers choose the best coconuts from each harvest that will produce the best quality oil.  It's important that you buy coconut oil from a trusted source.
I have only recently started using coconut oil for cooking but am learning all the different ways it can be used.  Coconut oil benefits are numerous!
Disclaimer: Tropical Traditions provided me with a free sample of this product to review, and I was under no obligation to review it if I so chose. Nor was I under any obligation to write a positive review or sponsor a product giveaway in return for the free product.
BUT there will be a giveaway because I love the product!
You can learn what coconut oil is and how it's produced. Or just watch the following video:

I love how they still have family producers and farmers to make the product.  They do make some mass produced items but pride themselves on their Gold Label brand.
It's kind of funny, I don't like coconut water but I LOVE everything about coconut oil. I love the smell and how it makes our food taste. So good.  Especially sauteing veggies in it. Heaven!
Tropical Traditions has a variety of coconut oil, organic foods, skin care products and much more.  I did take the opportunity to purchase some of their products like the 100% pure organic coconut oil Tea Tree liquid foaming soap & a shampoo bar for Kev.  He says he likes that it lathers up really well and only has to use a little to make the magic happen.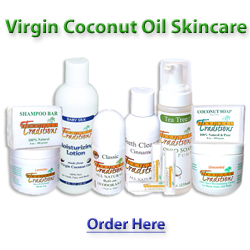 I tried their vanilla moisturizing cream which I personally did not care for BUT I also bought lip moisturizers which I love and are making an appearance in Christmas stockings this Christmas! I would definitely shop here again.
If you want to learn more about coconut oil, they have a book called Virgin Coconut Oil.  I just bought the digital ebook version today for only $5.99. That deal is OVER 70% off and is good until this Thursday, 12/19. Grab it while you can. They have some other awesome deals this week on the site so check it out.
Here are some yummy recipes too:
Overall I am impressed with the company and would highly recommend their coconut oil and other products. If you order by clicking on any of my links and have never ordered from Tropical Traditions in the past, I will receive a discount coupon for referring you.  You can see the different options and buy coconut oil here.
Have you ever shopped at Tropical Traditions?


P.S. The giveaway IS coming but might not happen until after Christmas. Something fun to look forward to!