Disclosure: This post may contain referral/affiliate links.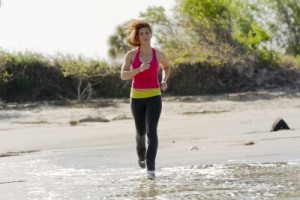 So, you've been thinking about starting running? You've heard about the endorphins or you want to take things up a notch or you just want to try something new. That's a great idea and as the weather starts to cool off, it's the perfect time to start.
Whether you've been a runner in the past or never run before, the key to starting running is to get out there. Take that first step. Walk out your front door or hop on that treadmill and start to move. It really is that simple. And it's really not.
Here are some tips for being successful as a beginning runner (or a runner returning to running after a break for something like pregnancy, childbirth, injury, etc.)
*Disclaimer: I don't know you. We've never met. Before you take my advice, please talk to your doctor and make sure it's safe for you to run.*
1. Get some good shoes. You want to make sure your shoes are supportive and appropriate for your body. I'd recommend going to a local running store if you can. They can make recommendations of what shoes will work best for you. (Eventually you will likely want to invest in good socks and clothing made of wicking material, but you don't have to do that right away.)
2. Find a plan (I recommend the couch to 5K program or checking out Jeff Galloway's run/walk method), but remember to start where you are. By that I mean if you can only walk for 15 minutes, don't expect your body to necessarily cooperate with a plan that asks for more. Build slowly up to where a plan starts or repeat plan weeks as necessary. And if you are returning to running, don't expect your body to jump right back to where you left off. (Trust me, I've learned that one the hard way.)
3. Take it slow. You don't have to run hard to build your endurance. Run easy and build your mileage. There's always time to train for speed later.
4. Listen to your body. It's ok to be uncomfortable, but you should be able to talk and you shouldn't feel actual pain. If you can only huff out a word or two, you are running too hard. (If you like techie stuff, this is where a heart rate monitor would be useful.)
5. Sometimes running isn't fun. There. I said it. Even those of us who have been running for years have runs that suck. But if you're listening to your body and your breathing is ok and nothing hurts? Then, by all means, keep going. Because I'm a firm believer that the sucky runs make the awesome runs that much better.
Good luck and have a great run!
Erika, the mom behind the blog MCM Mama Runs, first began running to combat postpartum depression. What started as a few times a week, 30 minute commitment soon led to a half marathon and then her first full marathon. 2 full marathons, 34 half marathons, and a ton of other races later, Erika is well on her way to running a race in all 50 states. Join her on her blog where she talks about training and racing while trying to balance work, kids, pets, and her love of craft beer. She can be found on Instagram, Twitter, and Facebook as well.