Disclosure: This post may contain referral/affiliate links.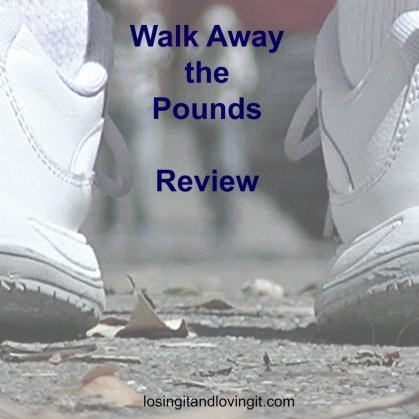 Why yes it does! I lost over 70 lbs on this program and highly recommend it.
The Walk Away the Pounds, Walk Slim and Walk at Home series of workouts are top my exercise list! All of Leslie Sansone's at home workouts are motivational, most have great music and I like that she has a variety of people who join her in many of the DVD's. People of all ages use her system!
The moves are simple and easy on your body: walking in place, side steps, kicks and knee lifts. Leslie also adds a variety of boosters in many of her at home workouts such as an ab belt, stretchy bands and hand weights All of this combined produce massive results. I really like at home workouts and Leslie Sansone's in home walking concept is great because you can do it year round.
I started Leslie Sansone's Walk Away the Pounds at home workouts back in August 2005. Of course, as a beginner I started out with her 1 and 2 mile workout videos and I'm now able to master the 4 and 5 mile workouts.  Don't get me wrong, I still like the one and two mile workouts for when I'm short on time. I have many favorite Walk Away the Pounds at home workouts and I'll share mini overviews of each DVD I own below.
Leslie is very chatty in all of her DVD's but that's just Leslie and you do have the option to workout only to music if you want. She is a great motivator and I like her a lot. I always feel great after her workouts. Another thing I really like is Leslie's focus on water intake. I think it's very important to stay hydrated while working out and she makes sure to remind you of that in many of her workouts. In some of the videos, Leslie misses some cues and moves but it was easy to figure out.
For beginners, I recommend any of the 1 or 2 miles to get yourself started. You can always modify any boosted moves and there are usually walkers in the videos that will do low impact while the others follow Leslie's higher impact moves.
Try out any of Leslie Sansone's Walk Away the Pounds at home workouts and you won't be disappointed with the results. Whether you're looking for weight loss or more energy, you'll be sure to find it with these workouts. Below you will find a mini overview of a variety of Leslie Sansone's workouts.
Walk Away the Pounds, Get Up and Get Started High Calorie Burn and Super Fat Burn DVD
When I first started doing the Walk Away the Pounds at home workouts, I used the Get Up and Get Started High Calorie Burn and Super Fat Burning workouts. This got me hooked and I have been buying her DVD's ever since.
Walk at Home, The Big Burn DVD
This DVD is a quick workout and high calorie burn. It's only 2 miles and will take approximately 33 minutes of your time. There is a good amount of boosted walking (aka jogging) intervals with kicks and knee lifts but you can follow Jo for low impact moves if necessary. The production and audio quality of this DVD is not very good. The sound goes up and down and it's just not as good quality as her other workouts. But I can overlook that because of the great workout I get from the workout. As with Leslie's other DVD's she either tells you what mile you made it to or there are mile markers on the screen and this video did not have either. I always look forward to the mile markers because they encourage me to keep going!
Walk at Home, 5K With a Twist DVD
Another great workout, 3.1 miles and lots of fun. This DVD does not have any walkers in it so it's just Leslie. I am motivated to do better when there are other walkers in the DVD but my mom likes Walk Away the Pounds workouts when Leslie is by herself, so it really depends on what you prefer. There are very few where Leslie is the only one in the video. I really like this workout because of the countdown clock for each mile. As it states on the DVD, "body slimming, calorie blasting, multi muscle walking and a great way to "train" for your local charity 5K walks"
Walk at Home, 3 Mile Weight Loss Walk DVD
This 3 mile workout is approximately 45 minutes. I really like the energy of this workout and the set is different from the others. It's very bright and relaxing. There are only a few walkers in this DVD with Leslie that includes a guy. Hand weights are used in this workout and as usual you can modify moves. Mary Kay does the 2nd mile and really moves it. Love her energy! There is no boosted walking (aka jogging) in this workout. You might be encouraged by two of the walkers in this one because they have each lost over 100 lbs. They inspire me to keep going!
Leslie Sansone's Walk At Home: Walk Slim
Love the Walk Slim series for it's energy, fast pace and fun music. It's one of my favorite walking series. The Fast Start (1 & 2 miles) has the boosted walking in it and is approximately 35 minutes. It has warm up, fast walking, then intervals, then more fast walking, and then the cool down. The 3 Fast Miles is my favorite out of this series so far. It's about a 45 minute workout and does not have boosted walking/intervals. There are no boosters (weights, bands, etc.) in this series. I think Leslie talks the most in this series but I don't let it bother me. All I'm focused on is the massive calorie burn.
The 4 Fast Miles is packed with calorie burning fun. I enjoy it! This workout does fast walking and has FIVE intervals. It works out to be 3 minutes of fast walking and 2 minutes boosted walking intervals. You jog in place, forward and back, do side leg swings, knee lifts and leg kicks while still in the boosted walk. Stretching in this workout was not as good as usual. I always take the time to get a good stretch in so you'll want to be aware of that. But with any workout, you should take as much time as you need to properly stretch.
So does Walk Away the Pounds Work? Yes! I highly recommend it.
Have you tried any of Leslie Sansone's Walk Away the Pounds workouts?