Disclosure: This post may contain referral/affiliate links.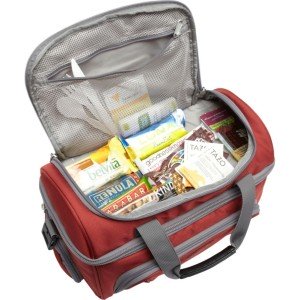 Healthy Travel: Vacation Advice
This month is National Nutrition Month. The theme for 2015 is Bite into a Healthy Lifestyle which is to encourage everyone to adopt a plan that focuses on healthy eating and physical activity.
I figured it would be a great time to share how we plan to stick to a healthy lifestyle while traveling later on this month. We're heading to Washington, DC!
We decided to find lodging that included a way to prepare meals and found a suite that includes a kitchen. The kitchen will allow us to cook dinners and make up healthy lunches and snacks for us while we are on the go. If only the hotel had an indoor pool. We can wish and I might still find an affordable hotel with everything on our wish list.
I digress. We are planning out our trip when it comes to healthy travel. Vacation advice on what to eat while on the airplane and at the hotel is below.
Here are some ways we will be eating healthy AND saving money while traveling.
Pack non perishable items for the plane
Book a hotel room with kitchen
Find a local grocery store and set up a time to shop at the beginning of the vacation
Pack lunches and have a family picnic
Carry a refillable water bottle (my favorite brand is Camelbak)
Look for local deals (Groupon, online coupons, etc.)
Skip the soda
Find a hotel that offers free breakfast
Snack & food ideas to carry on plane
nuts like almonds, snack bars, string cheese, cubed cheese, cut veggies like celery, cucumbers, carrots, cherry tomatoes, fruits like grapes, bananas, apple, or oranges, protein powder, dates & peanut butter packets, cooked sweet potatoes, muffins
Now all I need are some cool food containers and a carry on bag. I would really like a bag that can double as a backpack that I can carry on the train into D.C. every day from where we are staying in Virginia. Here is a great post on healthy airport food.
 It's not always easy to find healthy AND inexpensive ways to eat in an airport so you should always be prepared.
What to pack:
Cutlery to go
Baggies
Hand wipes
Water Bottle
Do you have any other ideas on what to pack and what are your favorite foods to take on your travels?