Disclosure: This post may contain referral/affiliate links.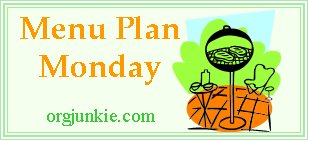 Menu Plan Monday time and once again we did not plan it out this week.  We were going through the freezer to see what might be good for this week and almost everything was freezer burned or the meat was dark and we didn't want to chance it.  So we have set out some chicken to thaw and will have that on Tuesday or Wed. but other than that not totally sure.  Maybe tuna and breakfast for dinner will happen this week but other than that we'll play it by ear.  Gotta make a grocery run on the way home from the gym tonight.
What is on your menu plan for the week? Maybe I can get some good ideas from you!