Disclosure: This post may contain referral/affiliate links.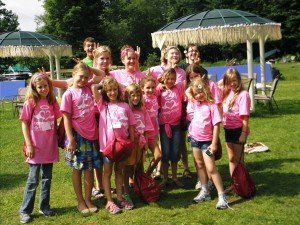 This is a sponsored blog post; while the views expressed here were genuinely mine, consideration was paid to me by Angel On My Shoulder to review this product.
Summer Camps Help Kids Affected By Cancer
Summer is just around the corner and while both kids and parents anxiously await a much-needed vacation, there are a few others who need something more…a break from the heart-wrenching challenges they face every day as a result of a family member who is battling, or who may have lost the battle, with cancer.
Are you or someone you know affected by a family member or friend with cancer?
Angel On My Shoulder is a registered 501 (c) (3) non-profit organization that has established a number of cost-free camps, both summer and year-round, that were designed to address the needs of young people whose lives have been affected by cancer through the illness or passing of a close family member (parent, sibling, or grandparent).
We have/had family members who have fought and won the cancer battle, those who have lost their battle and some still going through it. Cancer is UGLY but thank goodness for these camps, a great resource available today.
Angel On My Shoulder weekend camps are funded through donations so that everyone who wants to attend may do so. They provide kids with an opportunity to meet others like themselves in a well-supervised atmosphere of understanding.
All costs for attending a camp, including bus transportation to and from the camps, are funded by Angel on My Shoulder. As you might imagine families dealing with cancer are under a lot of financial stress so the purpose of the foundation is to remove those concerns so money is raised throughout the year (see the volunteer info below).
"When a family is affected by cancer, the focus has to be on the patient. Too often though there are children who are also experiencing loss or confusion," said Lolly Rose, founder of Angel On My Shoulder. "That's where Angel On My Shoulder comes in. We're helping these kids feel good and have fun with others they can relate to; to see their faces light up again is an amazing feeling."
I loved going to camp as a kid. I think it's great that they have something like this for anyone dealing with cancer. There needs to be more of these camps all over the world.
Angel On My Shoulder offers five different weekend camps for kids who have a close family member who is battling cancer.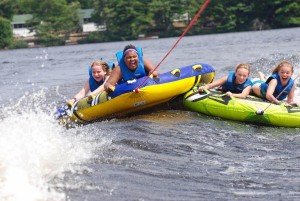 Camp Angel is for kids ages 7-12
Camp Teen Angel is for teens ages 13-15
Camp Angel Adventures is for older teens ages 16-18
Camp Angel Adventures Extreme is for 16-18 year olds who want to experience more extreme activities
Camp Hozhoni is a family camp for families with a child 18 or younger who has cancer.
The purpose of the camps is to give kids the chance to meet other kids who are in the same situation and give them the opportunity to participate in activities tailored to their age group that will provide many happy memories.
Summer camps include activities like swimming, kayaking, canoeing and fishing while the winter camps feature snowshoeing, ice fishing, dog-sledding and sleigh rides. Lots of fun and exciting things to do to help keep their spirits up. And the Camp Angel Adventures Extreme gives those ages 16-18 the chance to go sea kayaking and mine rappelling. So cool!
Angel On My Shoulder also sponsors two retreats for adults: Angel Care and Healing Angels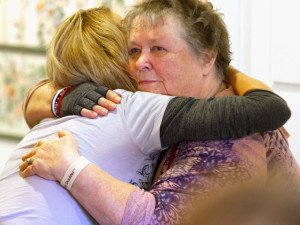 Angel Care is for Cancer Caregivers, and was created with the express purpose of giving cancer caregivers a respite from the often times grueling work of caring for a loved one with cancer. The retreats are held several times a year and provide activities such as yoga and discussion sessions to help these selfless individuals give back to themselves.
Healing Angels is for cancer survivors who are in remission. The intent is to provide them with a weekend of mental, physical and spiritual healing that will contribute to their growing sense of well-being.
"I am constantly inspired by the people I meet through Angel On My Shoulder from donors and volunteers to those families whose lives we touch," added Rose. "This community is quick to lend a hand and help one another and our organization is very thankful for that."
To learn more about Angel On My Shoulder, summer camp for kids affected by cancer, please watch this video:
The Angel on My Shoulder organization has
volunteer opportunities
. You can help with things like photography, event support, selling raffle tickets and more. Find out how you can get involved today. Plus they are always looking to help fill their gift baskets with supplies like gas cards, phone cards, hand and foot warmers, etc. You can read more on their site.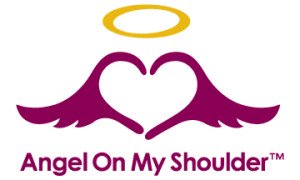 "Angel On My Shoulder was founded in 1995 by Lolly Rose in memory of her late husband Dick, who fought a courageous battle with cancer. Her hope was that it would become an emotional backbone for the cancer-affected community. She began her quest by meeting with various individuals in health organizations to explore the possibilities for offering comfort and support. From those meetings came the idea to create cancer support camps for kids affected by a close family member with cancer, and adult retreats for cancer caregivers and cancer survivors."
Here are some testimonials from a few of the hundreds of individuals that have been affected in a positive, life changing way by the cost-free camps and retreats sponsored by Angel on My Shoulder.
"Meeting new people at camp is so wonderful because you don't just get to spend the weekend with such cool people, but you also get these new friends to help you through anything. I'm honored to support my friends through any hard times, and it's even better when you get to visit each other outside of camp because you have such a great connection through camp!"
Alyssa Sullivan
A camper who has attended Camp Angel, Camp Teen Angel, Angel Adventures and will attend Angel Adventures Extreme this summer.
____________________
"I have had some unforgettable experiences at camp…during those weekends the people did not just become friends, they became part of my family. I would personally like to thank everyone who helps run this amazing camp. It changes lives!"
Kim
A former camper, future counselor
____________________
"I wanted to meet others who knew my situation and could relate to what was going on in my life…. I found that it was easy to talk about my situation because the others knew what I was talking about. It also helped in my grieving process after my mom passed away."
Nicole King
A former camper and current counselor
____________________
"This experience was amazing (never being to a support group or anything for myself before), I met some wonderful people that I will never forget."
Rhonda
Angel Care participant
____________________
Be sure to check out all that Angel on My Shoulder camps have to offer in Three Lakes, Wisconsin. Cancer really stinks but to have someplace to go where you can spend time with others dealing with the same thing, is an awesome opportunity.