Disclosure: This post may contain referral/affiliate links.
Time for Menu Plan Monday!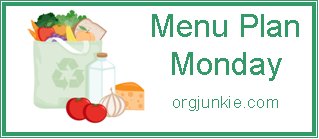 OK, so we didn't plan anything for the week.  We are going to have to play it by ear unless we come up with a menu plan tonight.  Not a lot in the house but we'll make do this week because I don't feel like going to the store except for bananas and maybe some veggies.  We'll see!
I'm thinking we'll have tuna/soup, pasta, chicken/veggie, breakfast for dinner and maybe we'll order in one night!  I don't really know.
So sorry you didn't find an exciting menu this week, not that any of our menus are enough to write home about ha ha
What is on your menu plan for the week?