Disclosure: This post may contain referral/affiliate links.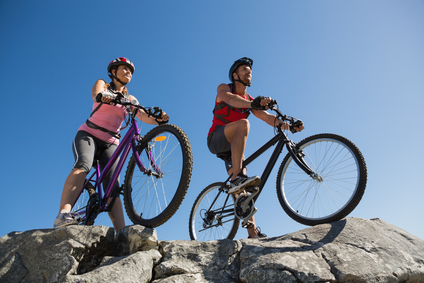 This is a sponsored guest post.
How to Stay Fit  & Have Fun on a Mountain Bike with Your Family!
There is nothing more satisfying than getting out in the fresh-air and exercising with your family – except maybe exploring new and beautiful landscapes during that exercise. Taking a mountain biking trip is a great way for a family to come together and experience a sense of adventure that will make you want to start bringing your mountain bikes wherever you go (don't have a mountain bike? Check out this Tesco Buying Guide). So here are five great places throughout the world to take your family and your mountain bikes for an unforgettable trip.
1. Wales, United Kingdom
The Welsh countryside is one of the most beautiful in the world, and fortunately there are plenty of quality mountain-bike paths of various degrees of difficulty (ranging from beginner to expert) that run through its hills and valleys. If you're interested in a longer trip, the Ogmore Valley, along the Glamorgan Heritage Coast, has over 250 miles of National Cycle Network trails traversing lush green fields, former canal towpaths, and the disused railways that were once greatly important to the country's industrial growth.
2. Henry W. Coe State Park, California
Whether you're an advanced riding family or a group of beginners, there are plenty of single-track and more than 200 miles of dirt roads and trails that meander through Henry W. Coe State Park in California. The area is also equipped with 19 park campsites, each of which features a picnic table, fire ring, and a central bathhouse with flush toilets and sinks. If you're looking to split up your biking with other outdoor activities, there is also great hiking available.
3. Mont Tremblant, Québec
Just north of cosmopolitan city of Montréal is the resort area of Mont Tremblant, which features over 50 km of beginner, intermediate, and advanced mountain biking trails. Mont Tremblant National Park also features great camping, hiking, and water sports. If you're looking for a longer ride, try the P'tit Train du Nord, which is an easy to ride trail featuring over 200km of spectacular scenery.
4. Scotland, United Kingdom
Though it may be for the slightly more advanced family of riders, the 7 day mountain biking trip, named the "Hebridean Trail," that weaves its way across the grassy fields, rocky paths, roads, and beaches of the Outer Hebrides is one of the few remaining chances to feel truly secluded alongside your fellow bikers in the wilderness. There are tour packages available, and though they may cost a pretty penny, if it's your family's passion then it will be absolutely worth it.
5. Missouri, USA
In Missouri your family can bike in the footsteps of Lewis and Clark on the 240-mile Katy Trail, which runs along the banks of the Missouri River. The trail is open year-round, but spring will offer you the lovely scenery of blooming dogwood and redbud trees. Be sure to schedule a stop between St. Charles and Boonville, to take a closer look at the natural stone arch and Native American rock paintings.
Mountain biking is a wonderful activity that not only keeps your family in great shape, but also treats them to respect the natural world and to cherish the preservation of it.
The buyer's guide mentioned in this article is more for my UK peeps. You'll find some great deals on some awesome mountain bikes.