Disclosure: This post may contain referral/affiliate links.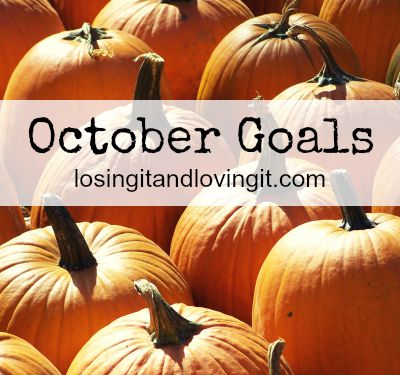 My October Goals
Move! My October goal is to just get moving in some fashion. I have had some tests on my leg to see what might be causing the numbness in my thigh and the pinch in my lower back. I had an EMG which was extremely uncomfortable. I also had an x-ray on my lower lumbar/back. The x-ray didn't show anything but some arthritis starting. Still waiting on the EMG results.
With all this going on it's not easy to workout but I am going to try to get on the recumbent bike every day starting Monday. Otherwise, I'll be walking on the treadmill or outside as much as I can until my leg becomes numb and it's hard to move. This weekend will be a lot of chores around the house that will keep me moving.
I am going to make a more concerted effort to do more at my standing desk during the day. I would also like to try to get a bit creative and make some journals. So much to do, so little time!
It's been kind of crazy busy since we returned from our Roatan, Honduras trip. I gained another awesome client a couple weeks before we left and my stepson got married the week after we returned. So needless to say with rehearsal dinner, wedding, reception and my parent's being in town for the wedding (wish I could just get them to move here but they just bought a new house in another state) we were on the go, go, go. But it was a blast so it was worth all the long nights.
Roatan was fantastic as usual. We pretty much snorkeled and walked the beach every day. The only thing I had wanted to do but didn't get a chance to do was learn how to kayak but I swear one day I will. Kev enjoyed his early morning kayak adventures so that was nice.
We are also already talking about our 2016 trip. Wherever we go we'll be celebrating our 20th wedding anniversary. We both are dying to go to Australia and New Zealand so I have started the research to see if it's a possibility for 2016. We might have to wait on that trip and if we do we have thought about going back to Roatan for two weeks or trying someplace totally new. A few places I think would be wonderful would be Saint Lucia, Grenada, Barbados and there are a few more.
I have a feeling Australia/New Zealand might have to wait for another 5 years to plan it out more but you never know! What say you? What would YOU do? I digress. Let's get on to more goals.
I have a new client and am keeping really busy with that work plus my other fabulous clients. I am trying to manage my time better so I can keep up with my blogs, products, etc. I do wish I was superwoman but hey I'll do what I can.
I know the weather is going to turn real fast here in Chicago so I need to enjoy this sun and cool air before we get into freezing cold temps and snow. Not looking forward to THAT. But I AM totally thankful that I have the ability to work from home and can hibernate all winter.
One other thing we are going to try this weekend or next is meal prep. It would be so much easier if we already had meals cooked for a couple days of the week at least. Right now with family living here, there is so much going on especially with girls in high school (driving & after school activities), middle school (basketball & Junior Honor Society) and grade school. Phew! Just tired thinking about it. We'll be organizing closets and their bedroom this weekend.
What are your goals for October? What are your weekend plans?