Disclosure: This post may contain referral/affiliate links.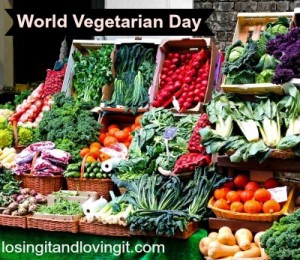 Happy World Vegetarian Day! And Happy October 1st. Many of you know I'm a vegetarian (well, many call me a pescatarian since I still eat fish) but I just consider it vegetarian, makes it much easier.
Over the last year I have enjoyed a lot of delicious vegan gluten free meals since Rikaine from Beans and Tortillas and her girls moved in. I can't believe it's been a year. It's been fun!
I just wanted to share some easy meatless meals for you to chew on. Some may have dairy, some fish. Found these around the web and from some fellow FitFluential ambassadors. Enjoy!
Tasty Vegetarian/Easy Meatless Meals
And I LOVE veggie burgers. There are so many varieties out there.
No rhyme or reason of the order, just some meatless meals I have/want to pin. We are looking to start doing meal prep so we are not flying by the seat of our pants during the week. I don't care for the idea of spending a whole day cooking but I think once we get the hang of it and we have more time in the evenings during the week, it will all be worth it. Plus we have an extra full size fridge in the home gym so why not fill it up.
Do you have any meal prep tips? Favorite meatless recipes?