Disclosure: This post may contain referral/affiliate links.
Time for Menu Plan Monday!  Not quite sure how this week will pan out but this is what we came up with so far.  It might change but since we didn't have a chance to grocery shop this week, we'll try to make do with what is already in the house.  We are going to try to hit up the Thursday Farmers Market though so maybe we'll find some goodies there.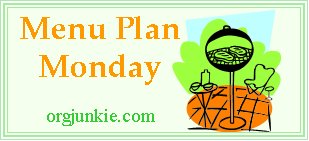 Monday-
Macaroni and Cheese & Hot dogs
Tuesday-
Breakfast for dinner (pancakes maybe)
Wednesday-
Chicken breast, veggie, sweet potato fries
Thursday-
Breakfast for dinner (eggs)
Friday-
Dirty Rice filled green peppers (ground beef)
What is on your menu plan for the week?