Disclosure: This post may contain referral/affiliate links.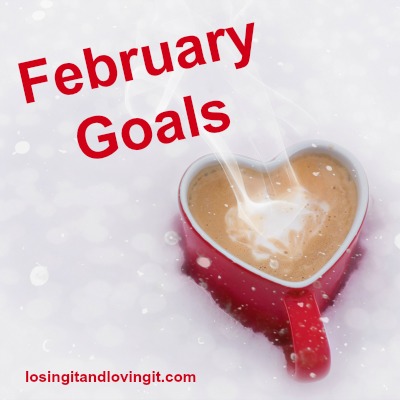 This post contains affiliate links
Keep It Simple but Get It Done
Just a TAD late on my February 2016 goals and boy this month did not get off to a great start. I wish I would have never stopped working out or at least getting daily exercise.
I hear myself saying this often. No bueno.
It's MUCH harder to get back to it after you have let it go for so long. We still have one week left to go this month.
So here are my top TWO weight loss goals to finish out the month.
Move every day.
Drink water.
Those were the very simple things I did when I lost all that weight a few years ago. So why not just start over?
Speaking of that, TODAY is this blogs 8th anniversary. I get excited about it but also a bit down. I had such a great success story back in the beginning. You hear it all the time, I lost the weight and gained it back. Blah.
Having a REAL hard time getting back into the groove.
Things have been stressful around here between health issues, cat issues, you name it, we have dealt with it. I'm so exhausted all the time and just have every excuse in the book as to why I can't get my butt on the recumbent bike, into the home gym, out for a walk, etc.
Time to change that.
I DID get on the recumbent bike today for two 15 minute cycles. So it's a start. I actually enjoyed the time to myself and got in some reading too.


I'm currently using my Fitbit Charge HR because everyone else in the house has one lol and I STILL have the Fitbit Aria scale to set up that we bought back on December 15th. Oh my!
Along with getting back into the exercise groove, comes healthy eating. I think I am going to do some juicing to get my body back into craving the good stuff.
And I am now part of Kelly Olexa's Finally Fit Coaching group. You should join us! I'm not an affiliate just love to sing Kelly's praises. If you don't know who Kelly Olexa is then check out her site and her company, FitFluential. I have been a FitFluential ambassador for just about 5 years now and love the fitness family.
So there you have it, a pretty open confession to what's up with me. I have to choose some pretty big goals to have something to work towards. It IS our 20th anniversary year so I could go back to when I first decided to start living a healthy lifestyle. My goal was to slim down for our 10th anniversary for our vow renewal in Jamaica. Seems fitting yes?
My new mantra: Keep It Simple but Get It Done
What are some of your big lifestyle/weight loss goals?