Disclosure: This post may contain referral/affiliate links.
It's Friday and time for your fit and healthy lifestyle tip!
Today's Tip: 

Okra health benefits
Ever heard of or tried Okra?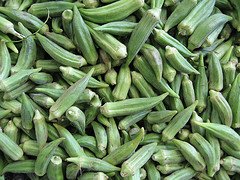 *photo credit
You might have once tasted or seen okra in gumbo or other Cajun and Creole dishes or the popular fried okra but I first saw the okra eaten raw by one food blogger and just knew I wanted to get brave and try it.  We bought a bag of okra at our local Farmer's Market a few weeks ago and served myself some raw okra (rinsed off of course) dipped in ketchup (after I got over the initial shock of the okra being fuzzy on the outside).  It was absolute yum!  Thanks to Meghann for getting me hooked on that!
I knew nothing about okra but have since learned that it does have many health benefits.  Okra is low in calories at about 25 for 1/2 cup sliced cooked okra and it's packed full of valuable nutrients such as B6, folic acids, fiber and calcium.
To retain most of the nutrients you should cook the okra as little as possible but I like it raw so I would probably never cook it.  Oh and you should not rinse okra until you're ready to use it because it will mold and get slimy.  Interesting!
If you want to learn how to cook okra here is a website you might find helpful.
Cook's website for how to cook okra
I thought for sure Trader Joe's would have some okra but no such luck AND I was bummed to find that the farmer's market vendor we purchased it from 2 weeks ago did not have any last night when we returned.  They said they are hard to grow especially now with the cooler weather in IL and there were no good ones available.  I have their card and will call them next week to see if their friends were able to salvage any more.  I'm craving them so I sure hope so!
As I was in the process of writing this blog post, I found more okra cooking tips. Not sure I would eat okra cooked after falling in love with raw but hubby won't touch the raw with a 10 ft. pole ha ha
Do you like okra and what is your favorite way to prepare it?


P.S. Have a great holiday weekend!