Disclosure: This post may contain referral/affiliate links.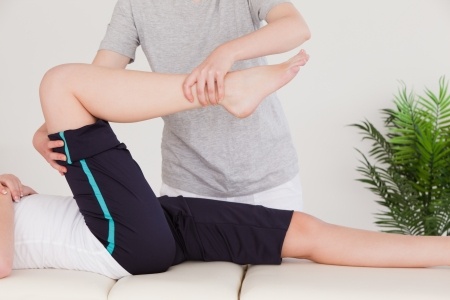 Just a bit delayed in keeping you up to date. I'll fill you in this week on all my PT sessions since this one.
My AM & PM session at home on Wednesday was OK. In the AM session it hurt to use the foam roller so I used a hand roller we have in our home gym instead. Standing on my right leg to do hip flexor stretches hurt but I completed them.
3/17/16: I was able to get in a 2nd physical therapy session this week. Natalie is so booked up, Kev can't even get in for therapy on his foot. First appointment is the 2nd week of April for him. I feel bad for him having to wait but we are on a wait list should anything open.
Today was a full session since we used some of the 1st one to go over everything before we started. She did a lot of that physical therapy stuff lol
Natalie used a foam roller on the front and sides of my right leg. She did some stretching, pulling, moving. I don't know exactly what it all is but I am starting to feel it doing something. I was getting some sharp pains the first day after PT but so far haven't with this 2nd session.
We did one move where I was on my stomach, knees bent feet up with a ball in between. I had to squeeze feet together on the ball, relax then repeat.
I feel so old and crickety when I go to turn over to get up. Every time it feels like that pinched nerve is not happy. It will be a long road but I am hoping for the best.
I'll fill you in on stuff since then. another day this week. I'm struggling but we keep pushing forward. I really am tired of my leg going numb while I sleep and stand. I'm so over it and really don't want to have to get a wheel chair at the airport for my business trip next week.
Seriously….I can walk, although it takes some time but standing is another story….I'll be dragging my right leg by the time I'm done standing in airport security and then the plane ride won't be so fun.
Have you ever had physical therapy?