Disclosure: This post may contain referral/affiliate links.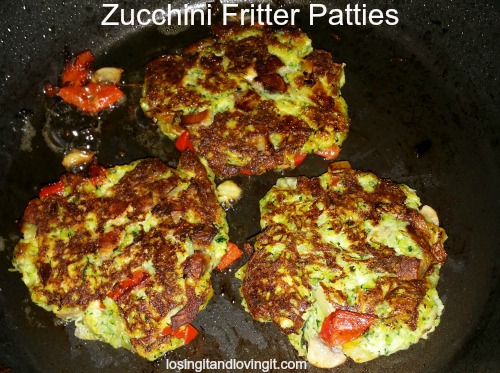 I just made these delicious and EASY zucchini fritters patties and they turned out awesome. Hubby said so. I had been craving zoodles (zucchini noodles) and had Kev bring home about 10 zucchini's. Needless to say I have been playing with zucchini recipes and still on the look out for more. So delicious. Check out the recipe below.
Easy Zucchini Fritters/Patties recipe
Zucchini and/or Carrots
Onions
Mushrooms
Red Pepper
Flour (2 tbsp) or I saw somewhere you could use 1/3 c. of corn meal and 1 tbsp cornstarch.
Eggs (1)
Garlic/Salt/Pepper/Your favorite seasoning
All amounts depend on how many people you are serving & how much goodness you want to add to your patties.
Step 1: Line a wide mouth bowl with a kitchen towel
Step 2: Shred zucchini and/or carrots with a box grater into towel in the bowl
Step 3: Wrap zucchini up in towel and wring out water. You will need to start this process at least 45 minutes to an hour before you want to start cooking. I did this a couple hours in advance and was able to wring out a ton of water every 30 min. or so.
Who knew there was so much water from zucchini?
Step 4: Remove zucchini from towel and put into bowl.
Step 5: Cut up any veggies you want to include (finely cut mushrooms, onions, red peppers, etc.).
Step 6: Sautee veggies in olive oil until cooked to your liking.
Step 7: Add flour, eggs and spices to zucchini. Then add veggies. Combine.
Step 8: Form into patties. The size depends on you. I liked them about palm size and a bit thick.
Step 9: Heat oil in pan, then turn down to setting 3, low to medium.
Step 10: Add zucchini patties to hot pan and cook for 2-4 minutes on each side. Watch out for splashing oil. Do not cover.
Serve with eggs. I whipped up a bit of mayo and sriracha to top it off.
Next time I make these, I would like to try baking them. I love the crispness of the outside but maybe I'll try making them a bit thinner.
I'll try baking them on my Silpat mat at 375 for 20 minutes. We'll see how that goes!
What are some of your favorite zucchini recipes?