Disclosure: This post may contain referral/affiliate links.
You'll never have to leave your house again. Just kidding. Or am I?
Have you heard of Vive Health?
I was sent the Pedal Exerciser from Vive Health to check out and share my opinions with you all. I have always wanted to try a pedal exerciser under my desk and use one while watching TV instead of always getting on the recumbent bike.
It's so easy to carry around the house, so I can use it anywhere at anytime. Read below to find out why you should use a pedal exerciser and where to use it. Leave a comment below with your suggestions too.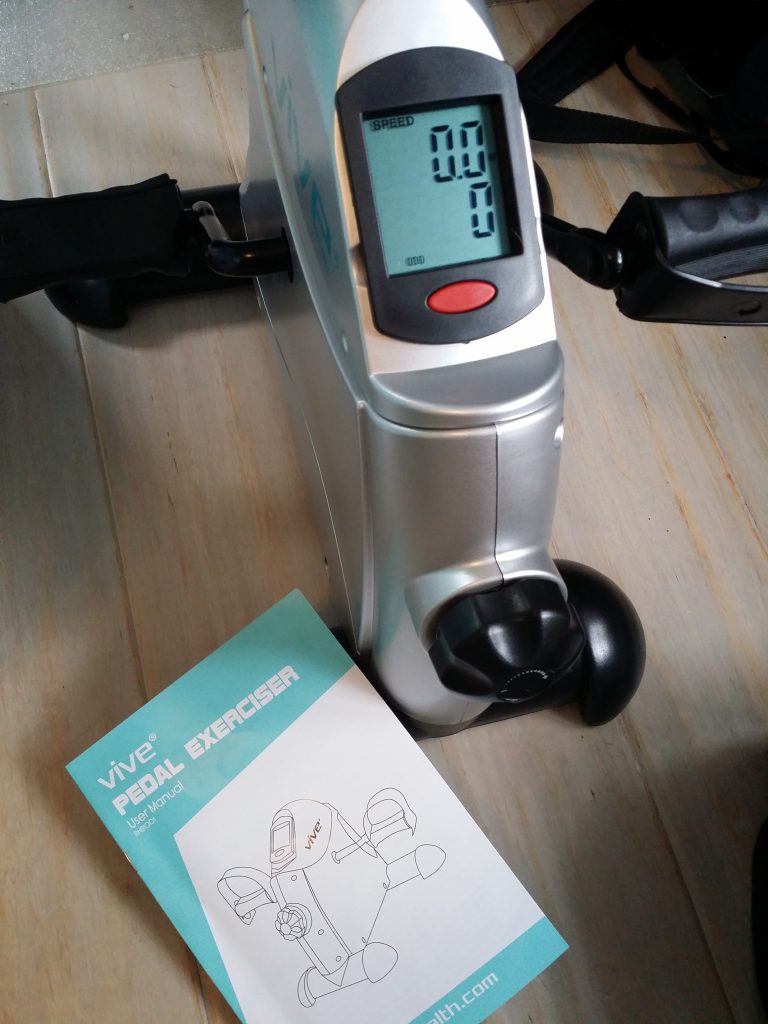 WHY USE A PEDAL EXERCISER?
Burn Calories – The Vive Health pedal exerciser is like my own mini, portable bike. It's a great way to burn some extra calories each day. Staying active is important for optimal health.
Helps Mood – Exercise helps how we feel. This could improve not just our physical health, but also mental and emotional health. When I am in a "mood" exercise always makes me feel better. If I am frustrated I can pedal it away – really fast!
Increase Work Production – Being healthy helps our overall ability to work.  Also, exercise helps blood flow to our brains. In return, this can help us to be more alert.  If we are more alert than our next task(s) will be easier to complete.
Physical Therapy – Pedal exercises are especially helpful with physical therapy. It's designed to be used by not only feet but hands too. I can see that really helping with my upper arm tightness.
The Pedal Exerciser is very easy to use, reliable and sturdy too. I thought it was going to be cheap looking but it's definitely a solid piece of equipment.
I like that there is a large LCD screen that shows distance covered, RPM, speed, time and calories burned. Pretty cool and keeps it simple.
WHERE TO USE A PEDAL EXERCISER
Work – I love having it in my home office. It's an important addition while I work everyday.
Home – The best part, I can pedal in my living room while a watch a bit of TV or even while chatting with my husband over coffee.
Travel – It is important to know that this pedal exerciser is portable. I like to travel, so this is a great way to stay active if traveling by car. I don't think I would lug it on an airplane lol
So where ever I am the Vive Health Pedal Exerciser can help me with my daily routine. I like the idea of fitting in short workout bursts. Every little bit helps right?
And remember a healthy heart is a happy heart. Pedal exercises improve the cardiovascular system and helps my heart get stronger. Exercise always helps me improve my circulation and increases strength. You can change the resistance and intensity on this pedal exerciser. Good stuff. Fit in a few bursts of fitness throughout the day and get a good nights sleep.
Leg & Arm workouts
Not only can you use this pedal exerciser with your legs but you can get in a nice arm workout too. Be sure to place it on a rubber mat if you can to help make sure it doesn't slide off what ever surface you choose to use.
Downside:  I had a real hard time getting my feet into/under the pedal straps. It was a workout in itself to do that. I can also see me having a hard time pedaling and working on the computer at the same time. But I guess taking a 10 minute break here and there to pedal isn't such a bad thing. It will help take my eyes off the computer screen. Bonus!
Kev (hubby) was nice enough to put the pedal exerciser together for me. It looked simple enough to do.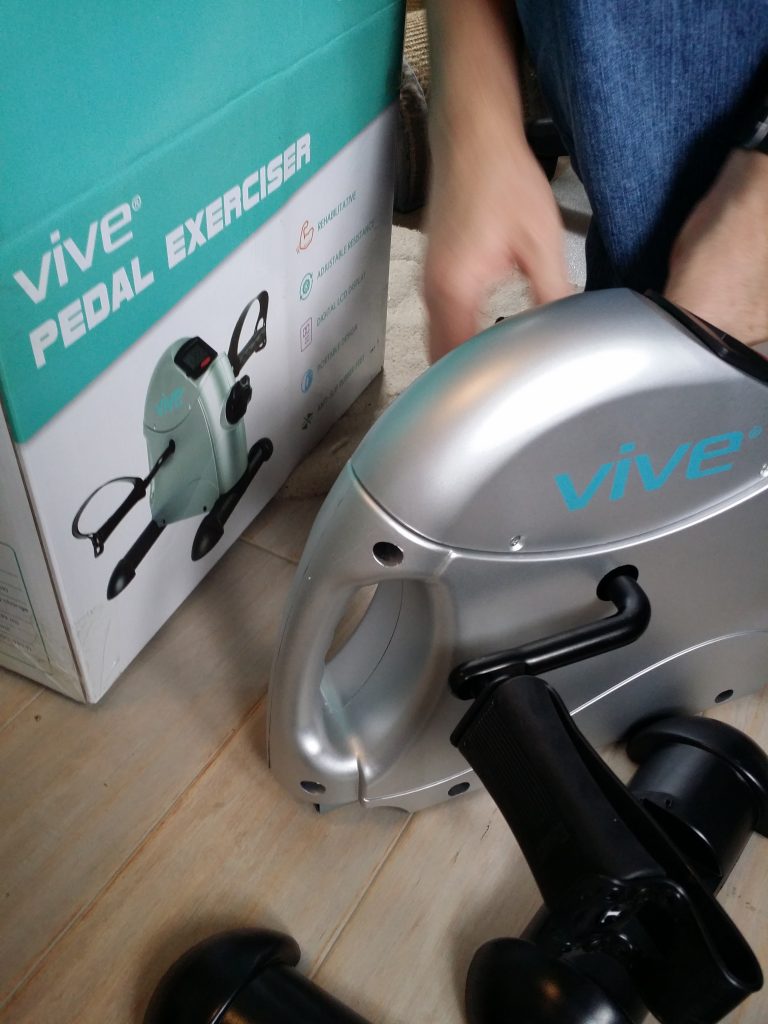 Here's their Vive Heatlh video on how to assemble the pedal exerciser:
Be sure to follow Vive Health on Twitter. Facebook. And YouTube.
Don't miss out on grabbing this portable, low impact, small exercise bike for yourself. Or put it on your wishlist.