Disclosure: This post may contain referral/affiliate links.
Healthy Home Cooking from a Non Cook
This past weekend, I made a few delicious and simple recipes. I was craving mac n cheese but didn't want to have it from the box so I tried my hand at making it in the Instant Pot. It turned out good.
I didn't take any pictures of the process because well to be honest, I am not a cook and was just testing it out. I didn't THINK it would turn out as good as it did. I would much prefer my mac n cheese to have more liquid and maybe I'll do some research to see how I can do it differently next time. I don't want to eat too much pasta so it might be a while before I try it again but it was a success.
I also made some delicious sausage biscuits. I'll share that recipe in another post because I did take some pics of that process and they turned out well.
I am definitely NOT a pro when it comes to cooking but I'll try simple things and think I can handle the Instant Pot so I will be trying more meals in that. The Instant Pot is THE best investment we have made. Love it!
I want to start doing some meal prep on the weekends. We started simple yesterday and just made some pork chops and sausages for today and tomorrow's meals.
I have started researching other ideas and keeping notes and links in an Evernote file. Some ideas I have so far are cutting up fruits and veggies to make them easily accessible. Prep breakfast in advance like overnight oats, egg muffins, sausage biscuits and I want to try my hand at making steel cut oats in the Instant Pot.
Here are a few must have healthy cooking ingredients to keep on hand.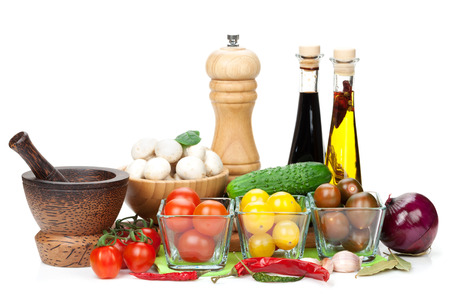 5 Must Have Ingredients for Healthy Home Cooking
It is necessary to have healthy ingredients on hand at home that you will use on a regular basis when cooking healthy meals at home. These should include healthy fats, be low in salt and sugar with no added preservatives.
Some of the healthiest cooking ingredients to have in your kitchen include:
1. Cooking Oil
Canola oil has no saturated fat and is considered the most healthy oil by many authorities, including, the American Heart Association. It can be used in salads, for baking, and for pan cooking. We mostly use Extra Virgin Olive Oil and Coconut oil.
NOTE: The Viva Coconut Oil is an Amazon Prime Add-on item today PLUS there is a 20% coupon for subscribe and save delivery should you choose that option. This coconut oil is great for cooking, baking and skin/hair care.
2. Garlic & Onions (yum!)
I love onions, mostly cooked though. You can use onions in a number of recipes like soups, salads or in stir-fry. Onions have a very distinct flavor and can be really strong but are oh so good.
They help balance blood sugar for people struggling with this issue, such as, diabetics and those diagnosed with pre-diabetes. They contain anti-inflammatory benefits for those who struggle with allergies when they include them regularly in their meals.
Garlic is related to the onion family and is high in selenium. It helps in reducing blood cholesterol that can cause problems in the heart. Did you know you should allow garlic to rest after chopping and before cooking to obtain the maximum health benefits? It increases iron absorption which is essential in the production of red blood cells.
It is also believed to help in the fight against obesity.




3. Tomatoes
Tomatoes whether fresh or in a paste are a must have ingredient. They can be eaten raw in a salad or made into various sauces for a delicious meal.
The red pigment in tomatoes is called lycopene and promotes the production of collagen for gorgeous firm skin. Lycopene is a nutrient that can help you sleep better. Tomatoes are also believed to help the skin fight against sunburn when eaten in abundance.
Tomatoes also lower the risk of osteoporosis by strengthening the bones when eaten regularly. They also contain antioxidants necessary in the fight against cancer.
Drizzling  a little olive oil on your tomatoes ensures you obtain additional nutritional benefits. Yum!
Finally, cherry and grape tomatoes are very low in calories, they can be eaten in abundance for snacking and with meals. I just stocked up at the grocery store. I LOVE the little yellow tomatoes too.
4. Spices
Spices help make meals more flavorful without any added fat and calories. Spices also have many health benefits. Some of our favorites are:
Cinnamon
Garlic
Oregano
Basil
Thyme
Rosemary
Parsley
Nutmeg
Cumin
5. Herbs
Most fresh herbs contain strong aromas that make a meal enjoyable, and can be grown easily which makes them easily accessible when cooking. Rosemary, Parsley and Ginger are the popular ones.
Rosemary can be included in soups, chicken dishes, even in a cup of tea. It is believed to help improve brain health.
Parsley is full of vitamins and minerals and adds color to any plate. It's considered to improve digestion.
Ginger is another herb that is good for digestive health and is believed to settle an upset stomach. It can be dried and used in tea to relieve a cold and helps open the sinuses for easier breathing. We use ginger when juicing a lot.




What are some of your tips for easy and healthy home cooking?
*I am not a doctor nor do I play one on TV. This is for informational purposes only so please seek advice from your primary doc with any questions about herbs/spices and their health benefits. We do not provide medical advice here.
Copyright: undrey / 123RF Stock Photo
Copyright: karandaev / 123RF Stock Photo