Disclosure: This post may contain referral/affiliate links.
Today's Tip:  How to build healthy salads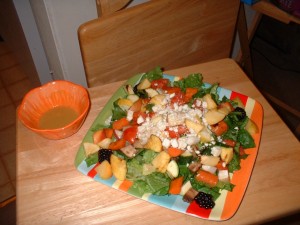 There are many healthy salad ingredients that will allow you can build a wonderful salad as a side dish or even as your main course.  Everything from greens, vegetables, fruits, nuts and more can make your salad really stand out.
Start to build healthy salads with greens like spinach, romaine and lettuce.  Most greens are high in fiber and low in calories.  Then move on to add veggies like tomatoes, mushrooms, cucumbers, broccoli, asparagus, cauliflower and more.  You can also add a variety of other ingredients like cottage cheese, crab, shrimp, edamame or hard boiled eggs.  Nuts are a good protein addition too.
Just be cautious with the addition of salad dressing.  This is my biggest challenge that is for sure.
The thing I love most about salad is that you can change it up all the time.  You don't ever have to use the same ingredients and can make it exciting by using a wide variety of healthy salad ingredients.
Let's start to build our own healthy salads.
I'll start…
Some of my all time favorite salad ingredients…..
Beets, asparagus, edamame, garbanzo beans and tomatoes
I have shared some salad ingredients above and now it's your turn.  Post  your favorite ingredients that you use when building your own healthy salads.
To your health,


P.S.
Be sure to check out this book full of 365 Days of Salad Recipes.