Disclosure: This post may contain referral/affiliate links.
Happy Saturday!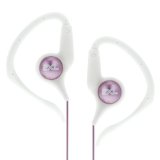 It's time for a headphone review and giveaway!
I'm excited to share you with you my thoughts on the 2XL family of headphones and ear buds.  The products are stylish and affordable.  And these products also stand out to me because they help ward off bacterial infections you can easily get from normal headphones and ear buds because they hang on the ear instead of having to stuff the ear pieces all the way in the ear.
The 2XL headphone samples that I had the pleasure of trying were very comfortable and the sound is really good.  It took me some time to get used to the new hanging ear buds but once I got the hang of it, it was smooth sailing.
I was sent the GROOVE, SPOKE and RATIO headphones and ear buds to sample and I really like them all.  My top choice at this time is the SPOKE but once I get more used to the GROOVE, I think that one will fast become my favorite.  I really want to try the 4 CORNERS set of headphones because I have always liked that type of headphone set up.
Overall, I really am very happy with the 2XL products and will definitely recommend them to others.  Thank you Lindsey for the opportunity to review these products.
Ready for a giveaway?
One lucky blog reader will win one  of the Pink/White GROOVE Hanger Bud Bunny
headphones (picture above and just so you know in person they look more purple to me).  U.S. entrants only please!  Read below for giveaway rules.
The Groove by 2XL provides fitness fanatics with hanger buds that are perfect wear for any movement or fitness routine.  Features include:
*Adjustable fits
*Hanger bud design
*Non-slip technology and design
*Variety of colors and designs
*Stellar sound quality
A Winner has been selected and contacted via email (CONGRATS Valerie), thank you all for participating!

Enter the giveaway:
All you need to do to have a chance at winning this cool pair of headphones is visit the 2XL website and tell me the name/color of the headphones or ear buds you would purchase.
That's all!  Easy peasy.
O.K. for an extra entry you can tweet this giveaway on Twitter and post the direct link of your tweet here on the blog in a separate comment.  You can find me on Twitter @angienewton
Giveaway will end Monday, October 19th at 9 AM Central (10 AM Eastern) and winner will be a random draw and contacted by email.  Winner has 3 days to claim their prize.
One last quick note:
According to Online Journal of Health and Allied Sciences, harmful bacteria was found on 92 per cent of ear swabs taken from people who regularly shared their earphones with friends, compared with only eight per cent of those who shared less frequently.
There's some food for thought!  Yikes!
Hope you enjoyed the headphone review!  If you would like to try them out for yourself, pick up your own pair here