Disclosure: This post may contain referral/affiliate links.
It's time for Menu Plan Monday!  I know it's been quite some time since I have posted our Menu Plan (August to be exact) but I'll try to get back into it.  This week our plan is to only use what we have on hand and no shopping for anything extra.  Plus Thursday I will have a tooth extraction so most likely will not be eating anything too exciting for a few days after that!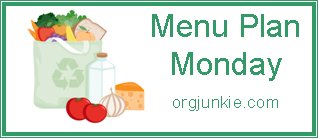 Monday-
Pork chops, homemade baked beans, veggie
Tuesday-
Shrimp & Crab Jambalaya with a mixture of leftover veggies thrown in (peas, corn, mixed veggies and edamame)
Wednesday-
Pasta with homemade sauce (ground turkey and veggies)
Thursday-
Up in the air
Friday-
Up in the air
What is on your menu plan for the week?


P.S.  I'm in the process of learning what it takes to be a vegetarian and vegan.  I don't know if either is for me for sure but I am sure willing to experiment.  I am looking for good books, websites, etc. that can give me the basics.  I know I can't do this overnight but I would like to try to eat more whole healthy foods so that is my main goal.  I'll write about this in a different post soon, I just wanted to see if I could get some feedback from those who might have been there, done that.