Disclosure: This post may contain referral/affiliate links.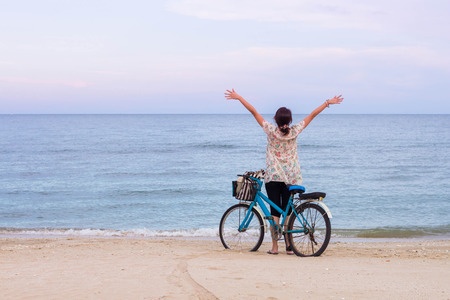 There are a few things I do on a regular basis to boost confidence and mood. I think it's important to take care of and treat yourself often. The simple actions below, although not free help me every time. To me it's worth the investment to help me feel good about myself.
My Top 3 Ways to Boost Confidence and Mood
The three ways that most help me boost my confidence and mood are getting my nails done, booking a pedicure and getting my hair done. The first two I do on a regular basis, usually every 3 weeks depending on how fast my nails grow. I like to try to get my hair done every 6 months if not sooner.
Getting Your Nails Done – I absolutely love getting my nails done and have been doing it for a long, long time. I go about every 3 weeks. It makes me feel good every. single. time. I used to stick to the tried and true French manicure but I don't remember the last time I had that done because it's just too fun to change my color up every time. I use cool nail colors I have personally bought and bring with me and of course the nail shop has a plethora of colors to choose from. I just recently bought a new color from Macy's that I can't wait to try this week or next. It's beautiful! See…
Getting a Pedicure – Whenever I go to get my nails done, I always get a pedicure. I love to take time to relax every few weeks with a spa like pedicure. So divine. Sometimes I go in early just to soak my feet. My nail peeps are great. The foot massage is my favorite!
Getting a new 'do – I love to get my hair done. It's the thing that boost's my confidence and mood the most. I am constantly saving new hair styles and color ideas on Pinterest. I might get brave and get my hair cut short again this next go round but I'm not quite sure. What are your favorite hair styles? I also love it when my almost 18 year old granddaughter braids my hair. I would probably pay her to wash and braid it often but shhh don't tell her that.
I ALSO get my eyebrows waxed every time I go to get my nails and pedicure. It's amazing how good that makes me feel too. Might sound crazy but getting the brows cleaned up does wonders.

Speaking of brows have you ever tried threading? Do you color your brows? Inquiring minds want to know. I just feel that I can never really choose a hair color I love because my brows are too light. I'm not a beauty nut so I would have no clue how to fill them in with a pencil or anything like that. Any brow tips?
A few other things I want to incorporate into my lifestyle at some point is a skin care routine and a new wardrobe down the road when I lose weight.
Speaking of clothes, I had just over $50 from a Plenti card to spend at Macy's the other day and found some cute plus size workout clothes. Then I took one of our other granddaughter's to spend a gift card she had for Rue 21 and I even found something special there. I don't want to say what it is in case Kev reads this, it's a surprise for our next date night.
Here's a pic of the workout clothes I bought from Macy's (minus the hat, that we picked up at the mall):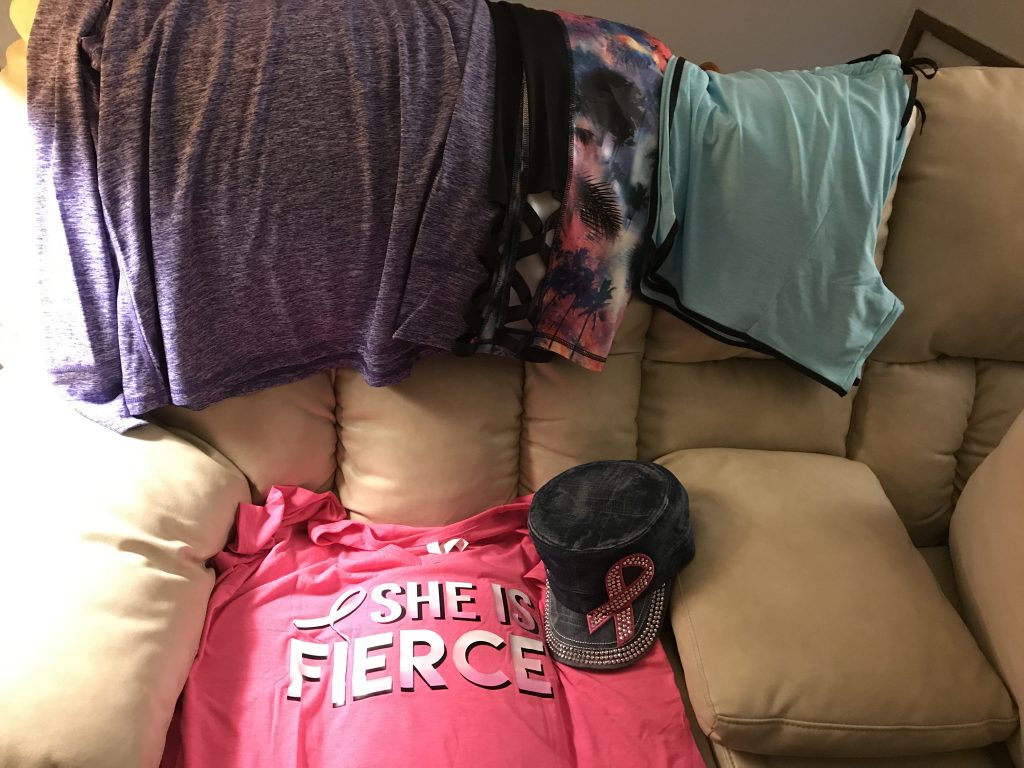 You should check out Macy's if you haven't already. I never thought I would shop there and not even sure why but I was very impressed with their selection and online shopping experience. It was easy to shop online and my shipment came really fast. I will definitely shop there again. You can even use Ebates for 3% cash back! Have you signed up for Ebates yet? If not, click on my referral button below.
Obviously all the ideas I shared above costs money but there are many other ways to boost confidence and mood with out spending your dollars. Here are some simple tricks you can try today:
Go for a walk in nature & take pictures
Clean out your house & donate items to charity
Read a book
Plan a future vacation (one of my favorite things to do!)
Read other blogs (this always inspires me when I read positive stories from others)
Get on Pinterest and plan a home renovation/project (I can't help myself sometimes)
What are some ways you boost confidence and mood?