Disclosure: This post may contain referral/affiliate links.
Have you heard the saying, " Summer bodies are made in the winter"? Well, we best get to it if we want to feel more confident this summer.
With that said, I have been back in the home gym every day since January 8th. Sometimes even twice a day. But don't get too excited, they are small and quick workouts so that I can get my body moving again. I have struggled for well over a year and need to get moving again. I am normally one to jump the gun quick and do too much so I am taking it a slow pace.
I personally have a goal to make it in the home gym every day even if it's just to do 10 minutes on the mini trampoline/rebounder. In fact, that is how I start my day. On weekday's I'm in there by 5:45 AM and weekends I go in first thing after I wake up.
Playing tunes on the Echo Dot (love me some Justin Timperlake and Gwen Stefani) while I hop on the mini trampoline gets my day started off on the right foot. The rest of my goals for 2018 are further down this post. By the way, I have the Urban Rebounder mini trampoline and I love it. Do you have a mini trampoline? Would you be interested in doing a rebounding challenge this year?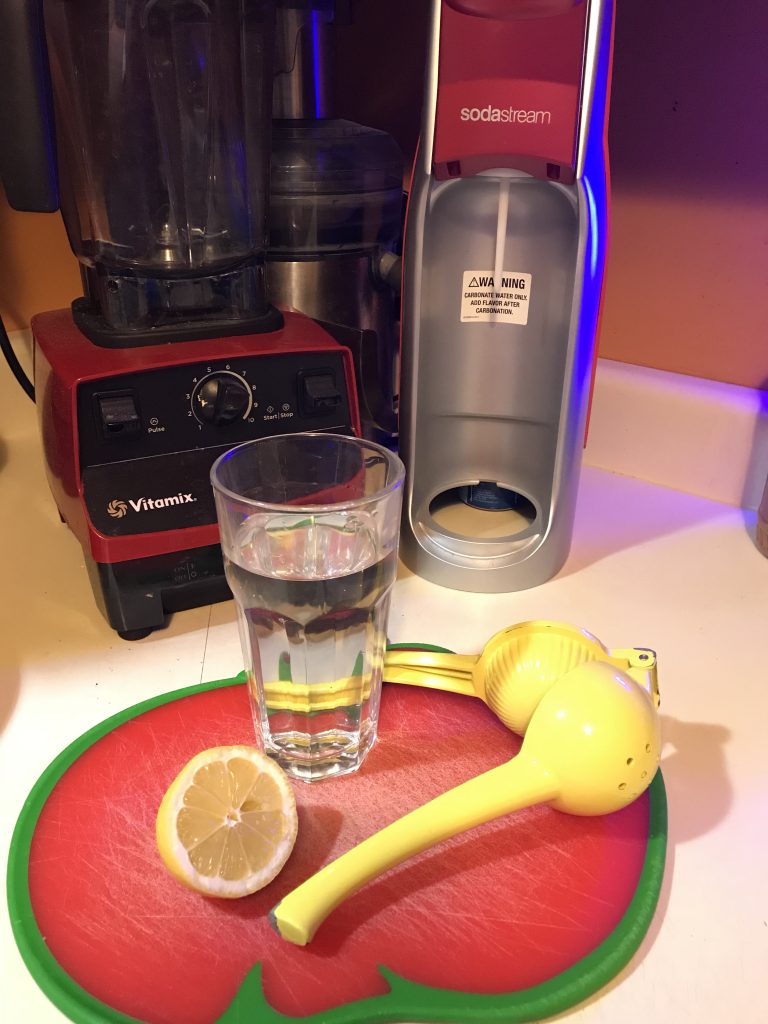 I also started a lemon water challenge. Check out these lemon water health benefits. Join in if you want! I do one glass of lemon water every morning immediately following my quick mini trampoline workout. I have also been doing this since January 8th but haven't really noticed a difference. Am I supposed to? What should I expect?
We got our Polar M430 fitness watches set up plus our Polar Balance scale. Things are getting serious around the Newton house!
My goals/resolutions for 2018:
Move more. My goal is 10 minutes a day.
Workout accountability. Working out with our granddaughter is really good accountability. Don't want to let her down!
Drink water.
Less sugar.
More veggies.
Healthy breakfast.
Read more. (Starting with My Fight Your Fight)
More sleep.
Lose the clutter. (Going to start reading The Joy of Less)
Lose the debt.
I also want to sit less. Check out these yoga videos for people who sit too much!
Track workouts.
Travel more. (Check out our travel blog.)
I have heard that if we put our workouts on the calendar before we do them, we are more likely to do the workout. I just want to keep a consistent workout routine so I started small with the daily trampoline workouts. Seems to be working good so far since January 8th.
If you couldn't tell already, my word for 2018 is DISCIPLINE. What's yours?
Here's the plan so far of what my workouts might look like each week:
Monday – 10-20 min cardio + 15-30 min. strength/weights and/or other workout
Tuesday – 10-20 min cardio + 15-30 min. strength/weights and/or other workout
Wednesday – 10-20 min cardio
Thursday – 10-20 min cardio + 15-30 min. strength/weights and/or other workout
Friday – 10-20 min cardio
Saturday – 10-20 minute cardio
Sunday – 10-20 minute cardio + Yoga, Pilates or long walk
Again it's my goal to get in the home gym every morning for a quick mini trampoline/rebounder workout and that falls under my 10-20 minute cardio. It's such a good workout and not hard on the knees.
Workout Partner Accountability
My 15 year old granddaughter and I have been working out together 3 days a week in the home gym. It's been fun, we have done spinning, boxing, weights/upper body and lower body workouts.
We are also going to attempt some if not all the workouts from the Winter Shape Up challenge. Workout 1 looks like a doozy since I haven't been working out for a while. We attempt that one today and will let you know how it goes.
Other Workouts
There is a 4 week squat challenge that I would like to do next month. What do you think?
And I just met Kathleen from https://www.justkisf.com/ on Instagram and she has a 12-week workout program coming soon for only $25 if you get on her notification list here. I think I'm going to sign up for this.
Once I really get back into the swing of things, you'll be hearing more from me. Hopefully on video, if I can gain some confidence to do that.
Like I mentioned above I'm trying to focus more on eating better too. I'm not really following any certain diet plan nor am I tracking yet but I am leaning towards low carb/keto type foods. I still eat carbs like rice, oats, and bananas oh my lol We'll see how things change as we go along!
Two things I really look forward to this year at some point are not needing a seat belt extender on the plane and hopefully seeing a difference in my leg numbness. Yes I'm still dealing with this.
That's all for now.
Do you have a workout plan? I would love to hear your fitness schedule. Goals? I want to hear those too!