Disclosure: This post may contain referral/affiliate links.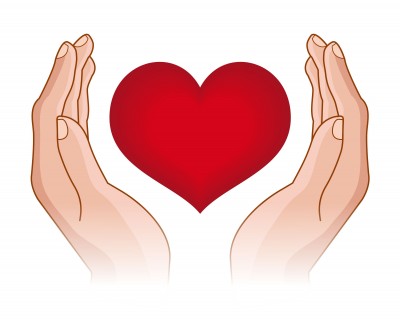 In honor of American Heart Month let's talk about ways to improve your heart health. It's very important we get not only ourselves but our family and friends involved in this event and not just every February but all year round.
Did you know?
2,300 Americans die of cardiovascular disease each day, an average of 1 death every 38 seconds. (quoted source)

The American Heart Association says, "The biggest part of living healthy comes down to simply making healthy choices. While you can't change things like age and family history, the good news is that even modest changes to your diet and lifestyle can improve your heart health and lower your risk by as much as 80 percent."
Are you living a heart-healthy lifestyle?
Here are a few simple tips on ways to improve your heart health.
1. Improve your fitness
I always say that just 10 minutes of exercise is better than nothing. The CDC says so too! Here's how much physical activity they say adults need. Don't freak out when they say 150 minutes of moderate exercise is recommended every week. That's only 2 hours and 30 minutes. And like I mentioned they even say you can break it up into 10 minutes at a time. I'm thinking we go for 300 minutes (5 hours) of fitness each week starting in March. We can do this!
2. Eat Healthy Foods
This depends on what lifestyle you choose to follow. Some choose low carb/keto, some low fat and there are tons more ways to live a healthy life with whatever healthy foods you choose. Just try to follow these tips on how to prevent heart disease.
3. Manage Stress
Help manage stress by improving your fitness, eating healthier foods, take time for yourself, laugh and break up big projects into small bite size pieces. Here are more tips to manage stress.
One more thing…
Cardiovascular diseases, which includes stroke, claim the lives of about one woman every 80 seconds unnecessarily — because about 80 percent of cardiovascular diseases may be preventable with education and action. (source)
Visit: https://www.goredforwomen.org/goredgetfit/ for more info.
Million Hearts
This year the big focus for Million Hearts is younger adults. It's perfect timing here because my 15-year-old granddaughter and I started working out together 3 times a week (soon to be 4). We definitely needed to get more active! Million Hearts is urging us to "empower younger adults to take control of their heart health." Will you join me?
The Smart Woman's Guide to Heart Health
Don't miss my friend Ute's book The Smart Woman's Guide to Heart Health. She explains how the heart works and shows how to manage a heart-healthy lifestyle and protect your heart. It's a quick read and I think you'll really enjoy it. Plus she's my friend and I love her and I like to support my friends.
What are you going to change this month to improve your heart health?