Disclosure: This post may contain referral/affiliate links.
So I couldn't decide between Motivation Monday & Menu Plan Monday so you'll get both today.
Motivation Monday:
The difference between try and triumph is just a little umph!
Marvin Phillips
I'm going to work on some extra umph this week, what about you?
I actually wanted to quickly share that I did the first day of the Melt It Off program
that I mentioned in yesterdays post and boy oh boy, my arms, legs and abs are a shakin'.  Phew!  I already know I'm going to LOVE this program!
On to our menu plan for the week…..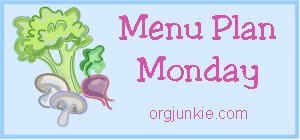 Monday-
BBQ Chicken Pizza (homemade)
Tuesday-
Breakfast for Dinner
Wednesday-
Pasta with homemade sauce (ground turkey and veggies)
Thursday-
Smoothie for me/shake for Kev no straws LOL (time for more dental work for both of us!)
Friday-
Tuna & Soup
What is on your menu plan for the week?