Disclosure: This post may contain referral/affiliate links.
According to The Online Recipe Box, today, October 27th is National Potato Day.
Although I like both regular baked potatoes and sweet potatoes, I want to give the sweet potato some love.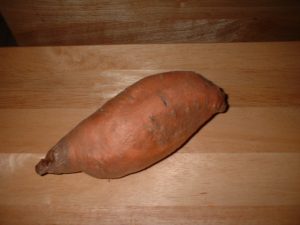 Sweet potatoes, sometimes called yams are very healthy for you
Rich in beta-carotene and packed with fiber
A sweet potato has almost 1/3 of the Vitamin C you need for one day
The sweet potato has a variety of skin and flesh colors. You are probably most familiar with the brown skin and orange flesh
Many other health benefits
I like my sweet potato grilled or baked in the oven although I really wanted one for lunch one day and just popped it into the microwave and it turned out great. You can make a wide variety of foods with sweet potatoes like soup, mashed potatoes, pies and more. I personally like baked whole sweet potatoes (minus the skin) and oven baked or grilled sweet potato fries. Yum, yum!
Do you like sweet potatoes? What is your favorite way to eat one?