Disclosure: This post may contain referral/affiliate links.
This is Day 2 of Dr. Mommy's Healthy for the Holiday's blog tour.  Daisy has shared some awesome info with us and we hope you have enjoyed it.  Today Daisy shares with us healthy lunch ideas. Although I don't work outside of the home, these lunch ideas are great for anyone.  Enjoy!
Lunches Can Be Healthy
Some think that lunches are not important or have to be quick and most of all unhealthy.  That is not the case.  Can you imagine spending 15 to 20 dollars on lunch a week and some spend this daily?
Well, stop imagining because that is what many people are doing today. Not many are taking lunches to work and are suffering the consequences.  Everyone wants convenience but with convenience comes a price that may be very costly. The fast food lunches you are consuming are high in salt, fat and calories. How productive are you at work after eating a fast food meal for lunch? And not only the feeling but the cost will also add up month after month.
With today's economy we should be looking for ways to save money and in turn living healthier lives. It is not difficult to bring your own lunch to work. It may take some planning and preparation time but the results you will have on your health and wallet are worth the extra time.
Some valuable food choices you may consider are whole grain breads, pitas and wraps, vegetables, eggs, tuna, cheese, salmon and lean meats. The days of the boring sandwiches are long gone.
Try making yourself a delicious and nutritious sandwich with grilled chicken, lettuce, light ranch dressing in a whole grain pita. Perhaps a lettuce wrap is what you are craving; try them with salmon and light Asian dressing for a twist to the 'old' sandwich routine.
Leftovers make great lunches too. Try some tuna fish on whole grain bread with cucumbers and lettuce.  My favorite is hummus with veggies, but the possibilities are endless. Let's not forget to bring along fresh fruits and vegetables to make your lunch a truly nutritious one.
With some thought and planning, nutritious and inexpensive lunches are possible. Save your wallet and your waistline. Say good-bye to fast food and say hello to a wonderful and healthier you.
About The Author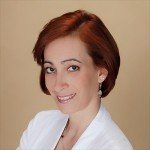 Dr. Daisy Sutherland, is the Founder and CEO of Dr. Mommy, LLC.  She is a doctor by profession, devoted wife and mom to 5 beautiful children.  She is a speaker, writer, and motivational coach/mentor and Health/Wellness advocate. Her passion is to help others to live happier and healthier lives. Dr. Mommy's dedication to help families is evident from her work online and offline but more importantly it is evident from the energy she exudes when talking about her true passion.  Dr. Mommy's mission is to help families in health, wealth and sanity.  You can learn more about Dr. Mommy by visiting her at Dr Mommy Helps Moms or Dr. Mommy Health Tips
If you would love to learn more about eating healthy and losing weight, be sure to comment so that you can win a copy of my e-book 101 Everyday Tips To Lose Weight. To find out how to gain more entries you can read my post from yesterday.
Well, it is time for me to move on to the next stop on my tour. I am very excited to bring health to your holidays!
Before I leave this stop, I want to extend my thanks to Angie. She has been gracious and I can tell she is very sincere in her desire to help you lose it and keep it off!
Daisy, thank you so much for making us your first stop on your healthy for the holidays tour.  I'm so excited to follow you around the web.  I know my readers (and myself!) have learned a lot from you.  You have so many great things to offer.
Coming up with healthy lunch ideas is not always easy. Would anyone like to share your favorite healthy lunch ideas?