Disclosure: This post may contain referral/affiliate links.
Happy Black Friday!  Have you been shopping yet today?
I have some weight loss/fitness/healthy lifestyle deals to share with you today plus a product review.
Let's start this post off right with this cool "Hit the Deck" product.
Trying to lose weight? Short on time?
Looking for cardio and strength training all in one workout? Trouble managing your stress?
Need a convenient workout at home or on the road?
PowerHouse Hit The Deck™ is the answer — one box has it all!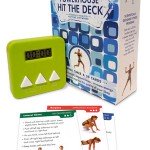 Set the timer, draw your first card, and do as many repetitions as you can. When the timer beeps, draw your next card!
Simple, easy, effective: a cardiovascular AND strength training workout at the same time, as well as an effective tool to combat stress.
What can PowerHouse Hit the Deck™ do for you?
Help you to lose weight, burn fat, and add muscle tone
Provide cardio AND weight training exercise at the same time
Expand your ability to handle and recover from stress
Improve your overall levels of fitness and wellness
Allow for flexibility – workouts can be any length desired
Offer variety by providing wide range of effective exercises
Deliver an excellent workout with no fitness equipment
Provide a great way to cross-train
Improve the quality of your sleep
Just leave a comment on this post by Sunday at 10 PM Eastern telling me what benefit of this product excites you the most.
Here are some great gift ideas for you to share when someone asks you what's on your holiday gift wish list.  This list will also help you shop for the active health conscious person in your life!
*Gift certificate to local gym/fitness center
*Fitness equipment
*Workout DVD's
*Fitness gear
*Healthy Gift Baskets
*Journals
*ipod and/or itunes gift card (Here are some of my favorite workout music tunes)
*Gift certificate to health food stores like Whole Foods, Trader Joe's, etc.
And the list goes on!
Can you think of any other gift ideas for the fitness or health conscious nut?
And just for fun take a peek at these adorable personalized teddy bears.  Be sure to click on Sporting Gifts to find the most adorable sport themed teddy bears.  Aren't the Walker and Aerobics personalized teddy bears just adorable?  These bears are NOT for kids so be sure to read the fine print.
Happy Shopping & Happy Holidays,


P.S. And lastly is a quick review of an Otterbox product called the Commuter™ Series for iphone that I received from the Otterbox company for review.  I got the red Otterbox Commuter TL iPhone case
and it's pretty good for every day use.  The outside is a plastic translucent shell that gives extra support along with a textured silicone skin.  I'm not sure I could use this case when I go to workout because it doesn't totally cover the iphone (the potential of the front of the iphone breaking scares me ha ha) but I do like it for everyday use and have been using it exclusively for about 2 weeks now and overall give it a thumbs up.
I am also in the process of reviewing two other Otterbox products and I cannot wait to do a full review on all 3 items together.  I'll be testing these products out over the next 5 weeks and will have a full review by the 1st week of January.  I really want to see how well one of them works in Jamaica since I'll have my iphone around sand and water.  Keep your fingers crossed for me!  Should be fun reviewing these other 2 products.  Thanks Otterbox and Molly for the opportunity to test out these great products.