Disclosure: This post may contain referral/affiliate links.
The OtterBox company rocks!  OtterBox has custom cases for the Apple® iPhone™ 3G and iPhone 3GS plus many more options.  I received all OtterBox products mentioned here for review however I will be purchasing OtterBox products in the future (hubby is just dying for an iphone now haha)
OtterBox products are great at protecting your tech devices from bumps, shock and dust. No matter the level of protection you seek it has just what you need to keep your device secure.  I have first hand experience with this.  I am happy with all of the OtterBox products I have and will tell you a bit about each below.
The Otterbox Commuter TL case
for iphone is your basic case for protection and style.  You place your iphone in the silicone skin which helps to protect access ports of your iphone and then snap on the plastic shell which holds it all in place.  It's definitely easy to use and stylish.  I love the variety of colors available (I have the red one pictured below).   I would say the Commuter TL product would be OK for your basic use, carrying around in your pocket or purse but I personally wouldn't use it on my iphone while exercising at the gym or taking long hikes.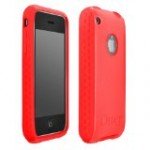 You can compare the Commuter series cases here.
The Otterbox Defender case
for iphone is more for the rugged outdoor lifestyle.  It has 3 layers for protection to help prevent scratches, dings and it absorbs bump and shock if you drop it (umm yes, I did and my iphone was perfectly fine).  I have the black Defender case and hubby and I absolutely love it. This is the case he wants when he gets an iphone!  The case with iphone fits perfectly into the clip on piece and is so convenient.  I use this case every day and give it a thumbs up!  You can see a video and read more about it here.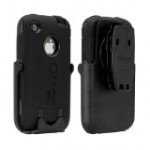 And lastly, I got the OtterBox PDA series case in yellow (see below).  We absolutely love it but I see it's out of stock right now bummer!  The PDA series case is definitely airtight and water resistant as stated on their website.  The buttons on the face of the iphone are accessible through a plastic screen however you are not able to use the side buttons on the iphone while it's in the PDA case. We had my iphone in this case playing Reggae Christmas music on the beach for hours while in Jamaica and it totally kept the iphone safe from water but especially sand which I had found on the outside of case at the end of the day.  It also has a thick hand strap for carrying it around.  Great work OtterBox!  I absolutely love this product but hubby still couldn't talk me into taking it on the snorkeling boat. Maybe next time!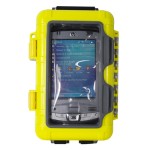 So as you can see I am giving OtterBox products a 10 out of 10 for my review. Thank you OtterBox for giving me the chance to try out your products.  I will definitely recommend them to family and friends.