Disclosure: This post may contain referral/affiliate links.
Have you ever tried a pomegranate?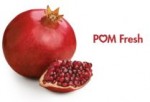 I love Pomegranates! Although a bit messy when opening (cover yourself in something you don't mind getting stained ha ha), I love the little arils inside.  They are yummy on frozen yogurt, oatmeal and much more.  You can find a lot of great recipes on the POM Wonderful website.
Speaking of POM Wonderful, they sent me free samples of their 100% Pomegranate juice and hubby and I love it.  It's so tasty and a little bit goes a long way!  It's all-natural and contains no added sugars, preservatives, colors or cheap filler juices. The thing I love most about POM Wonderful is that they grown their own fruit, pick it by hand, squeeze it with their own proprietary presses and even manufacture their own bottles.  It's great they never use imported juice.  I would love to visit their orchards in California's San Joaquin Valley sometime.
In the Northern Hemisphere, the fruit is typically in season from September to February. In the Southern Hemisphere, it is in season from March to May (says Wikipedia) and did you know that pomegranates are one of mankind's earliest cultivated fruits? Throughout history, the pomegranate has been revered as a symbol of health, fertility and rebirth.
Cannot wait to try the POMx items from POM Wonderful. They have POMx tea, iced coffee, bars and more!
Have you ever had pomegranates or pomegranate juice?