Disclosure: This post may contain referral/affiliate links.
Here's what is on our menu for this week.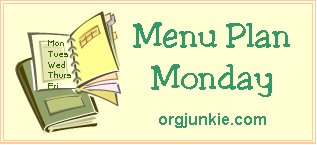 Monday-
Leftover chicken fajitas
Tuesday-
General Tso spicy stir fry with shrimp served on soba noodles
Wednesday-
Jalapeno egg sandwiches
Thursday-
Fish Tacos
Friday-
Up in the air!
It's been a while since I have put up our menu plan but we are fly by the seat of our pants kind of people so this probably won't be an ongoing thing so it will either be menu plan or motivation.
What is on your menu plan for the week?