Disclosure: This post may contain referral/affiliate links.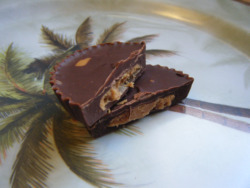 Please help me celebrate THREE years of blogging at Losing It and Loving It. On 2/22/08, I started this weight loss/fitness blog to share my journey and hopefully help inspire others to keep going with their healthy lifestyle.  You may be thinking that homemade chocolate peanut butter cups don't belong on a this type of blog I would disagree *wink*
One of my all time favorite treats has always been Reese's Peanut Butter Cups and over the last few months I had been reading about making a healthier version of the special treat.  I tested some homemade chocolate peanut butter cups over Christmas and they were good but not great.  I used dark chocolate chips in the Christmas batch (because dark chocolate is better for you right?) but used milk chocolate chips this time.  I preferred it this way more.  For once I didn't measure anything out and just went for it but you can see in the recipe below.
Meghann's Dark Chocolate Peanut Butter Cups (at the very end of the blog post)
And here is how I made them.
Angie's Homemade Chocolate Peanut Butter Cups
For my chocolate peanut butter cups I used milk chocolate chips (half a bag?), natural peanut butter (2 generous size spoonfuls) and vanilla.  Tried using coconut oil but it burns so easily (I imagine you could mix that in the chocolate chips after you melt them if you so choose)
Add some vanilla to peanut butter then heat up a bit in the microwave so it gets soft.  Stir.
Melt chocolate chips in microwave.  Stir.
Put cupcake liners in muffin pan (or not, you can pour direct into muffin pan too), pour a little chocolate to coat the bottom of each liner, then add a little peanut butter mixture and then top off with a little more chocolate.  Freeze and enjoy.
Tip:  Keep the homemade chocolate peanut butter cups in the freezer or they get really soft and don't turn out as well.  Take out to soften as needed!
Happy 3 year blogoversary to me! Celebrated with a tasty breakfast.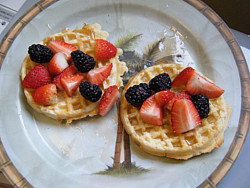 What is your favorite sweet treat?