Disclosure: This post may contain referral/affiliate links.
Many of you know that hubs is the chef in this abode and that I don't really cook unless it's something I can bake.  I'm a pretty good baker so they say.  But I have to tell you, I was craving some brussel sprouts (who would have ever thought I would end up liking these smelly things ha ha) and picked up a bag of them as I was shopping at Trader Joe's the other day.
Last night I was doing a quick Google search on how to cook them and I chose a roasting method.  I am usually one to follow a recipe but I wanted to do this on my own so I took ideas from a few and just put it together on my own.  Go me!
Angie's Roasted Brussel Sprouts
Here are the ingredients I used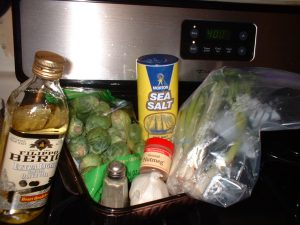 Trader Joe's Brussel Sprouts
Extra Virgin Olive Oil (EVOO)
Green onions
Garlic Cloves
Sea Salt
Pepper
Nutmeg
Garlic powder (not pictured, last minute sprinkle)
Heat stove to 400 degrees
Cut up 4 green onions (only white part), 2 garlic cloves and then cut the brussel sprouts up in halves and quarters.  Pour EVOO over that, sprinkle sea salt, pepper and nutmeg over that.  Mix up to coat.  Before roasting, I sprinkled some garlic powder.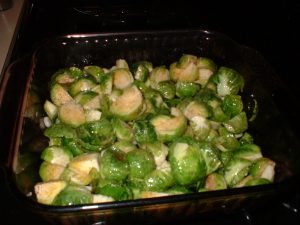 Baked in glass dish for 25 minutes, stirring once.  The finished product is below.  We thought they turned out pretty good (especially for me not really following a true recipe) but hubs recommends that next time I cover it and add more liquid.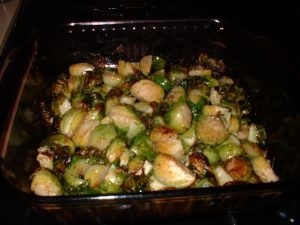 Enjoy!
Do you like brussel sprouts?  If so, how do you prefer them cooked?