Disclosure: This post may contain referral/affiliate links.
Memorial Day is right around the corner!  Planning on having a BBQ?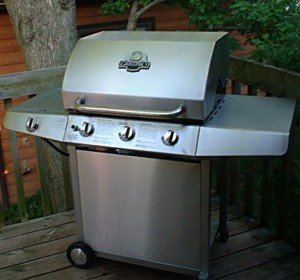 Did you know…the average BBQ meal contains 3,500 calories? That's nearly double the calories an average person should consume in an entire day!
Memorial Day is a special holiday for Americans, as we celebrate this day to honor the men and women who serve our country. It also marks the unofficial start to the summer season, which can be especially challenging for people trying to watch their weight. To avoid packing on extra pounds, registered dietitians and nutritionists at Structure House Weight Management, the residential weight loss program voted "America's Healthiest Diet" by Health magazine, suggest trying these delicious and healthy recipes:
Stuffed Hamburgers with Baked Sweet Potato Strips
Jerk Chicken with Caribbean Sweet Potato and Black Bean Salad
Beef and Vegetable Kabobs with Lemon Thyme Brown Rice
Grilled Marinated Pineapple Pork Chops with Mashed Sweet Potatoes
Grilled Salmon and Red Pepper Horseradish Sauce with Stuffed Baked Potato
You can find the recipes above on the healthy summer recipes page on my website.
Structure House experts are also offering their secret tips for creating a menu that tastes great and won't send your diet on vacation:
Choose fresh, local ingredients. Memorial Day is the unofficial start of summer which means produce like fresh tomatoes, peppers, and berries are in season. Use fresh seasonal fruits to make a refreshing fruit salad to satisfy your guests' sweet tooth!
Set up a kabob-station where guests can choose from healthy proteins like shrimp and chicken and combine them with seasonal fruits and veggies like tomatoes, pineapple, peppers, squash and onions.
Make healthier burgers using lean ground beef, bison meat (buffalo), venison, ostrich meat or even fish. Serve it on a whole wheat sandwich thin bun and provide healthy condiments and vegetable toppings.
Mix it up. Try refreshing salads like chilled cucumber or tomato.
Use chicken or turkey hot dogs, which are lower in saturated fat.
Skip the alcoholic drinks. Alcohol is high in empty calories and has no nutritional value.
When purchasing red meat, choose leaner cuts with less fat marbling. The leaner cuts may seem less appealing, but with a simple marinade they can taste just as good as a steak higher in fat.
Substitute whole grains whenever possible, including hot dog rolls, hamburger buns, pasta, rice, and other items. Whole grains contribute more nutritional value and make you feel fuller, faster.
I wanted to thank Structure House for providing us with these great tips, recipes and info.  It couldn't have come at a better time.
Do you have plans for Memorial Day?