Disclosure: This post may contain referral/affiliate links.
Please help me welcome internationally renowned Olympic swimmer Dara Torres!  Dara has chosen my blog Losing It and Loving It as one of her 1st blog tour stops and I'm really excited to have her here.  Dara is so passionate about everything she does and has worked hard to achieve all of her goals.  She inspires me!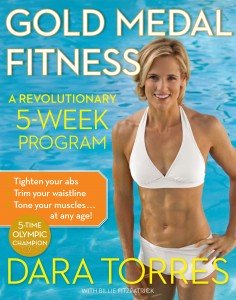 I was sent a complimentary copy of Dara's new book, Gold Medal Fitness
.  I chose which section of the book I wanted to review and discuss and it's titled Your Inner Athlete.  I wonder if you can guess WHY I chose to focus on that section….hmmm maybe the upcoming 1/2 marathon that hubby and I signed up for?  I truly need to find my inner athlete and after reading this section of Dara's book I am on the right path.
I know you might be thinking that you may not be as competitive as Dara nor am I but like she mentions in her book we are all alike because we all strive to reach for a goal.  All of our goals are usually going to be different but as long as we go after them we will feel better about ourselves.  We need to create our own plan and establish our own goals.  I love to keep a journal for my workouts but now I need to grab another journal so I can journal my overall experience.  Also, Dara has some questions in the section I reviewed  which I still need to reflect on and answer so the journal is perfect for that.
Part of this section really spoke to me because Dara talks about how it is so important to respect the message your body sends you.  For instance, lately I have been dealing with some health issues that have really affected my workout plan.  It's hard for me to take it easy right now especially since all I can think about is how much time of training I'm losing for this 1/2 marathon.  BUT I am respecting the message my body is sending.  I knew this was the right section of the book to review!
Dara also thinks it's really important to create a winning team!  I'm very lucky that I have a wonderful hubby to workout with a lot and I am also hoping to find someone who is at the same place I am with running so we can share our experiences and take this challenge together.  I truly have a great group of online friends who keep me going as well.  Training at the gym has made a big difference in just over a month and I feel really good about the support I get there too.  Boy, I'm really lucky!
Lastly, I got to ask Dara a question….
Dara, what are your Top 5 healthy snacks for before and after workouts?
Dara replied:
1. A Living Fuel shake (made with low fat milk) before workouts
2. A banana before workouts
3. Oatmeal before workouts
4. Chocolate milk after my workout
5. Fitness Nutrition Aminos before and after
Thank you Dara, that really helps because I struggle with what to eat/drink before and after my workouts.  It was really an honor to have you stop by my blog on your tour.
Be sure to watch some of Dara's media clips.  I enjoyed the few I have been able to watch this week although they were from her previous book promotion.  I'm looking forward to reading the rest of the Gold Medal Fitness
book because it looks and sounds great.
And my question for my readers…..
Who inspires you when it comes to living a healthy lifestyle?

P.S. Dara has also written the book Age Is Just a Number
which I also would like to read sometime.