Disclosure: This post may contain referral/affiliate links.
July is National Blueberry Month!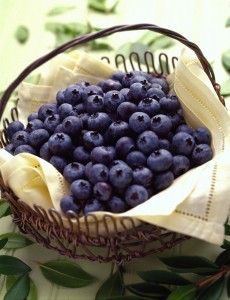 According to Web MD, the blueberry is celebrated in July because it's at peak harvest.  Most farmer's markets have them for sale along with raspberries and blackberries (my favorite).
Blueberries are low in calories, have a great amount of vitamins and antioxidants plus fiber. Blueberries are listed as one of the ten super-duper superfoods in the Superfoods for Dummies book. A nice healthy snack!
It's best to store blueberries in a covered container in the fridge but I just learned that you are not supposed to pre-wash them as they have a bloom that protects the skin of the blueberry. You can also freeze them if you don't think you'll eat them all before they would go bad which is usually within a week or less.
I personally like to use fresh or frozen blueberries in fruit smoothies, on top of cooked oatmeal,  in cold cereal and in Greek yogurt.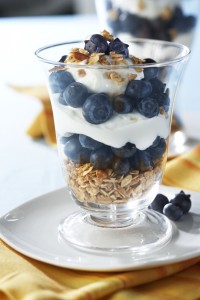 Learn How Blueberries Grow
And here is a yummy recipe for you.
Lemon and Blueberry Pancakes
4 ounces whole wheat plain flour
1 teaspoon baking powder
¼ teaspoon baking soda
1 tablespoon brown sugar
Zest of one lemon
4 ounces natural yogurt
2 tablespoons milk
2 medium eggs, lightly beaten
1 tablespoon butter
3 ounces blueberries
Place the flour, baking powder and baking soda in a large bowl.  Add the sugar and lemon rind.  Add the yogurt, milk, melted butter and beaten eggs.  Mix everything together well.  Gently fold in the blueberries.
Heat a non-stick skillet and drop a couple of tablespoons of mixtures into the pan to form a pancake.  Leave until you see small bubbles appear on the pancake and the mixture appears to be set.  At this point flip the pancake over and cook approximately one more minute.  Remove from heat and keep in a warm place until ready to serve.  Repeat with remaining mixture.
Do you like blueberries?

*images from Blueberry Council