Disclosure: This post may contain referral/affiliate links.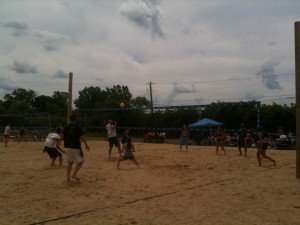 Had a pretty good week although I definitely could have worked out more.  I think I need to start planning out my workouts again instead of just going with the flow.  And I think Kev and I are going to start meal planning again soon.  I might even start keeping a food journal although a very limited one just to get myself on track with eating better.  That is my biggest hurdle.  Anyway, had a great Sunday at a charity volleyball tournament which I wrote a bit about below.
Monday- Day off
Tuesday-
*Elliptical
Time: 10 min.
Miles: .80
*Personal training (lower body)
Time: 30 min.
Wednesday-
*Spin class
Time: 1 hr
Thursday- Day off
Friday-
*Personal training (upper body)
Time: 30 min.
*Treadmill
Time: 25 min.
Miles: 1.81
Really tried to talk myself out of going to the gym today because I had a migraine however I didn't skip and after my personal training the migraine was gone. Thank goodness!  I did 4 running intervals all at 2 minutes.  Not too shabby but breathing was a struggle at times.
Saturday- Day off
Sunday-
*Charity volleyball tournament
Time: 7+ hours
Crazy day of volleyball.  A lot of fun but muscles are burning and we are totally exhausted.  Although we had to skip spin today I'm sure we burned way more calories than we would have in class.  It was fun and for a great cause.  The weather was perfect, not too hot although hubby and I did get quite a bit of sun even though we applied sunscreen.  I'm glowing RED LOL
How did your workouts go this past week?