Disclosure: This post may contain referral/affiliate links.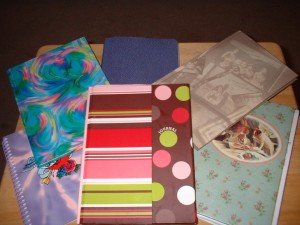 Do you keep a workout journal to keep track of your daily workouts? I have a ton of journals for various things and I carry around a cute little notebook with me at the gym to keep track of everything I do.  This week I also started mind mapping my workouts and LOVE it.  I'll show you sometime what that is all about.
Do you keep a workout journal?
Sorry I missed posting last weeks workouts.  I had one personal training session and one spin class before I left on my business trip. And I didn't workout AT ALL while I was traveling unless of course you count dragging my almost 50 lb broken suitcase (thank you American Airlines LOL) all over the airport.  Last time I went to this conference I woke up extremely early to workout in the hotel fitness center before all day sessions started but was actually worn out by lunch every day because networking goes late in the evening so I got no sleep. This time I just made it a point to walk to restaurants and only hitched a ride out to eat once with a friend.  My food choices were not that great this time around.
But this week was good.  I got in some good workouts but wait until you see the schedule for this coming week. Yikes!
Monday- Day off (traveling home)
Tuesday-
*Elliptical
Time: 10 min.
*Personal Training (core/abs)
Time: 30 min.
Wednesday-
*Spin class
Time: 60 min.
Thursday-
*Elliptical
Time: 10 min.
*Personal Training (glutes)
Time: 30 min.
Friday- Day off
Saturday- Day off
Sunday-
*Spin class
Time: 1 hr
Today I did 14 vertical knee lifts which I'm very proud of since I did give myself a vertical knee raise challenge.  I can't believe that I couldn't even do this just a few short weeks ago.
This coming week is going to be crazy!  Monday-Wednesday is going to be killer. Then Sat. we are looking at going on a very long walk.
How did your workouts go this past week?

P.S Have you heard of Mood Boost?  The company sent me boxes of packets to sample.  Honestly I have not been drinking it on a regular basis to really experience the boost in energy but I like the drink itself.  It comes in powder form and I like to have it with cold water and ice.  A lot of powdered mix drinks that I have had in the past were always so sweet and Mood Boost is not.  From what I have read it is a healthy drink mix supplement that provides quality nutrients.  Love that it has no artificial sweeteners or colors.  It's formulated for mood support and energy and some of the ingredients include Rhodiola Rosea, 5-HTP, St. John's Wort, Selenium and Vitamin D.  I also just read that it's good for vegetarians because of Vitamin B.  That is great to hear.  And one packet is only 20 calories!  You can read more about the product on their FAQ page.