Disclosure: This post may contain referral/affiliate links.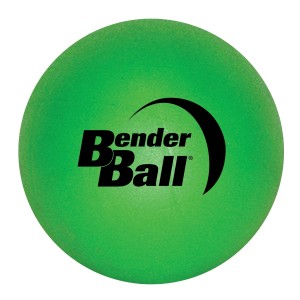 Have you ever heard of the Bender Ball
?  I had always been intrigued when I saw it on TV but never got around to purchasing it.  Just recently I was offered the Bender Ball free to review here on the blog and I jumped at the chance to try it out. I love to have a variety of workout options at home and I thought Bender Ball exercises might be a good addition to my home 'gym'.
"The Bender Ball workout program is a great addition to your workout routine to keep things interesting and/or give you a good kick for the extra calories packed into the holiday season. It is a must-have for the home gym, but is small and convenient enough to be taken anywhere you go; the office, the gym, park or while traveling."
I like the fact that it's easy to take anywhere I need to.  I'll most likely be taking it to the gym to show my trainer and add to our workouts and to possibly use in the weekly Pilates class hubby and I go to.  In Pilates, I have some hip issues so I tried a few Pilates moves at home using the Bender Ball.  Instead of lying flat on the floor, I put the Bender Ball under me and it relieved so much stress on my hips/back.  Cannot wait to take it to Pilates class. UPDATE: Took the Bender Ball to Pilates and it was awesome!  There was much less hip discomfort when I used it and boy does it give your abs a rockin' burn.  I didn't use it the whole class but rather for just a few moves.  I'm definitely taking it back to Pilates.   And of course, I'll travel with it as well since it's so easy to transport and can easily be deflated and inflated.
"The Bender Method of Core Training puts exercisers in the perfect position to sculpt and strengthen muscles.  Using the Bender Ball increases range of motion by adding an extension back with flexion forward while doing a standard crunch. The Bender Ball allows for changes in intensity by simply adjusting the leverage of your body or slightly inflating or deflating the ball. Made with a slip resistant surface to prevent slipping and the need for constant readjustment, it is available on www.benderball.com."
My personal trainer, Scott has been adding more core work to our sessions and I love it.  I figured the Bender Ball
exercises would be a great addition too.  You all know I love the stability ball and this is almost the same type of work it's just a much smaller ball and harder to balance on.  You can inflate it to 6-9 inches around.  Boy does the core get engaged on this puppy ha ha  And I love that when you do crunches on it, you can lean back so it's not like a normal crunch where you go all the way to the floor.  The DVD that came with the ball was quick and there were 3 intensity levels and the moves were explained very well.  I will probably only watch it one more time and will have the moves down so I won't need to use it again where with most workout videos you need it to workout.  I look forward to spending more time using the Bender Ball to see if it will really make a difference.  Here is the video and although a bit corny OK a lot corny with the "I love my abs" ha ha, it really shows the moves you can do with the ball. There are a few more Pilates moves in there that I can't wait to try in class.

You really never know with some of these "As Seen on TV" products but so far so good with the Bender Ball.  I like it!
And now for the exciting news……..
GIVEAWAY TIME (giveaway has now ended)
Congrats to Carrie, comment #3 was chosen via Random.org (I have the screen print of this but it won't post on the blog so I can email it if needed)

One of my blog readers can win a Bender Ball package!  It's really simple to enter.
Just leave a comment here on the blog telling me what your favorite core/ab workout is and you'll be entered for a chance to win.
For extra entries (separate comment for each please)
*Tweet this giveaway
*Mention this giveaway on Facebook
*Follow Losing It and Loving It on Facebook
Giveaway ends and winner will be chosen on Thursday, November 4th, 2010.  I will update this blog post with the winner's name next week.  Winner will have 2 days to respond or a new name will be drawn.