Disclosure: This post may contain referral/affiliate links.
Decent week of workouts! This is my favorite person to work out with…..he ROCKS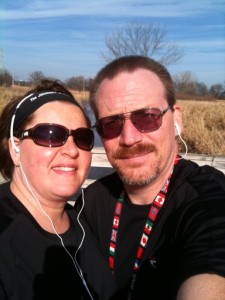 Hubby (Kevin) keeps pushing me and cheering me on which I appreciate so much.  We are going to have so much fun throughout the entire half marathon.  We obviously are NOT doing this for time but I would like to finish the half in under 4 hours.  For those of you who don't know, we are going to walk it and as long as we finish, I will be happy.
When I bought my new running shoes the other day, we also picked up some Jelly Belly Extreme Sport Beans
in watermelon flavor and Nuun
electrolyte sports drink tabs .  I have been having some issues with my hands swelling and the tabs were recommended to me for electrolyte balance.  I have to say the sport beans are pretty good but the Nuun Orange Ginger BLECH!  I cannot stomach it.  Hubby says it tastes like that stuff you take before a colonoscopy need I say more? ha ha  Might have to try a different flavor but I doubt that will make any difference for me….I also think it's the fizzing that bothers me.  And I don't like Gatorade either so I'll just have to figure it out as I go!  If anyone has recommendations, I'm all ears.
Oh and another quick question….if you have ever used arm compression sleeves, please tell me your thoughts when it comes to them helping aide in hand swelling. I would appreciate it.
Monday-
*Personal training (core)
Time: 30 min.
*Spin class
Time: 1 hr
Tuesday-
*Pilates
Time: 1 hr
Wednesday-
*Personal training (core)
Time: 30 min.
*Spin class
Time: 1 hr
Thursday- Day off
Friday-
*Personal training (upper body/core)
I did 35 total knee lifts (15+20) and my trainer Scott thinks it won't be too long until I can do the leg lifts OH MY!  We'll see about that.  Hope it's soon!
Saturday-
*Walk outside
Time: 1:07
Miles: 3.57
Oh and we probably walked 3 MORE miles at the outlet mall looking for race gear LOL
Sunday-
*Spin class
Time: 1 hr
*Walk outside
Time: 1:03 hr
Miles: 3.27
I'm really exhausted this week! It's not too much longer until the race, less than a month.  Today I wore some of my new race gear in addition to still breaking in the new shoes. (We'll be donating our old shoes at the Reggae Marathon). Went to the outlet mall this weekend and after a bunch of searching we ended up at the Hanes store and hit the jackpot.
Found Champion dry wicking shorts
and sports bras.  This store was awesome and the sales lady helped us so much plus you couldn't beat the buy one, get one 1/2 off.  All I need to get now are some PJ's and some other running gear and I should be set.  Waiting on 2 swim suits to arrive and crossing my fingers they will fit or I have to do a quick re-order and return them.  We'll see on Tues./Wed.
How did your workouts go last week?  Any fitness goals for the coming week?