Disclosure: This post may contain referral/affiliate links.
Love me some Mickey!
I have to tell you about my recent inspiration…..
I wanted to say that I came across a very inspirational lady who recently commented on my blog and I wanted to share her blog with you.  Colleen from Halves for Fifty has walked 20 half marathons and 7 full marathons.  Holy cow!  I am bowing down to her because she has really inspired me to re think walking more half marathons.  I haven't even walked my 1st one BUT from what I hear once I do, I might just change my mind.  I'm so glad that Colleen came to my blog and commented.  So. happy!
Next up….
I have been sent some products free for review that I wanted to be sure to share with you.
First is my new SIGG reusable water bottle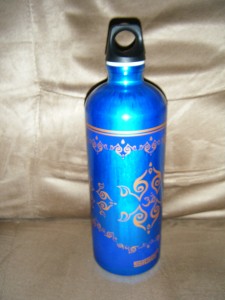 SIGG is healthy, using a baked on, non-toxic inner lining ensures no metallic taste or taste transfer.  It's also a healthy alternative to plastic bottles.  I LOVE reusable water bottles and SIGG is just so stylish, I really like the options.  I totally need the carrying strap now though.  I would definitely recommend these water bottles.  There is one thing I really have to get used to though and that is the twist off and on cap.  I'm so used to the water bottles I use on a daily basis (not for workouts) having a flip top lid and this one you have to twist off and on every time you want a drink.  That initially was the only drawback for me.  But now I don't have a chance of spilling it all over my desk right?  I definitely think this would make a great gift idea for the active person in your life.
And for something tasty….. FUEL UP THIS FALL
I had the chance to sample some the CalNaturale Svelte beverages (I just LOVE the sayings on these).
It is an awesome all natural meal replacement, pre-workout drink or snack.  It leaves me full for quite some time and taste good.  I was so nervous to try it because I have not had much luck in the past with drinks like this on the taste front.  But I was proved wrong with Svelte.  So tasty!  Favorite so far was the Chocolate and Cappuccino.  I didn't much care for the Vanilla and I still have the Spiced Chai to taste.
These drinks are low in sugar (9 grams per full container), high in protein (16g of organic protein from fresh organic soymilk) and a good source of fiber. Also dairy and gluten free.  You can learn more at their website Svelte|Calnaturale.
Hope ya'll are having a great week!  Hubby got into a bit of an accident last night and I'm thankful he's fine.  The front bumper needs to be replaced at the tune of $800+ but no worries, thank goodness for insurance right?  While I have you, tell me one thing you are thankful for in your life.