Disclosure: This post may contain referral/affiliate links.
It was like pulling teeth to figure out the menu plan for this week.  I have a feeling that we won't stick to this plan but we'll see.  It will be a crazy week as we are going to try and take a few evening spin classes which will put us home later than normal and we have taxes to do.
Join us for Menu Plan Monday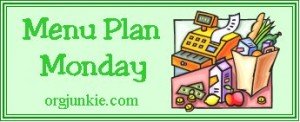 Monday-
Turkey burgers, potato fries and veggies
Tuesday-
Breakfast for Dinner (Waffles or Pancakes)
Wednesday-
Fish (Mahi Mahi/Salmon), potato, veggies
Thursday-
Tax night so we'll probably order in or go out for an early dinner
Friday-
Crockpot Chicken (not sure how it will be seasoned yet but I'm thinking Jamaican Jerk)
What is on your menu plan this week?