Disclosure: This post may contain referral/affiliate links.
DiamondHead Beach Resort: Fort Myers Beach, FL
My Review
Last Thursday, December 15, 2011 a few girlfriends and I arrived at DiamondHead Beach Resort for a business brainstorming weekend.  We thought it would be a great place for our business trip.  We did some research on various places and decided this would be the perfect resort and we definitely made the right decision.
All of us arrived within 3 hours of each other at the Fort Myers, FL airport (which by the way is awesome) and after grabbing luggage we were greeted by Don from Comfort Transportation.  He was fantastic!  He offered up suggestions for local restaurants in the area we were staying and he also offered to stop by one of the local grocery stores and waited for us to gather some necessities for our stay.
One of the gals in our group had to leave a day early and Don had one of his drivers come and pick her up from the resort.  Don also took two of us back to the airport after our stay.
The service from Comfort Transportation was excellent.
Then we arrived at the resort and were welcomed like family!
Welcome to DiamondHead Beach Resort
We were welcomed by Steve, the bellman who loaded our bags onto the luggage cart.  He sent us on up to the front desk where we were checked in by Leah and Savanna.  Both gals got us quickly checked in and were thorough in explaining everything we needed to know about the resort. We were also upgraded to a beachfront suite.
By the time we got to our room, the bellman was there dropping off our bags.  The girls I traveled with asked for an ice bucket for their wine and he immediately found one and brought glasses with it as well.
The Room
The beachfront suite we had was spacious.  We had a kitchenette area with microwave, refrigerator, dishwasher and all the utensils, cups and plates you need.  There is also a coffee pot.  There was a pull out couch in the living room area, a separate bedroom, nice sized bathroom and the most amazing balcony you have ever seen with chaise lounges, chairs and tables. There were two TV's but we never turned those on.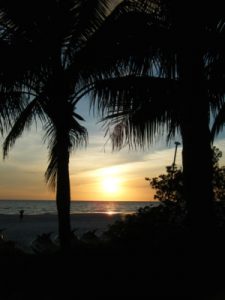 The View:
The view from our room was breathtaking.  From sunrise to sunset, we were in awe of the beauty!
Fort Myers Beach was not too busy while we were there.  I love to people watch and our 2nd floor beachfront balcony was the perfect place to do that.
There were teens playing volleyball, couples walking holding hands (I truly missed experiencing this with my hubby so we'll definitely be going back together), people swimming, sunbathing, parasailing and the highlight of my time there was seeing dolphins frolicking in the water.  They didn't stay long but to see that was so special to me.
The Restaurants
The resort has two restaurants, Cabana's Beach Bar/Grill and Chloe's.  Both were great. The food was excellent and the service second to none.  I only had one issue with a fish sandwich I ordered on my last dinner and the server and manager took care of it, no questions and got my replacement meal out in no time.  Impressive!
One evening, we decided to go downstairs for dessert however Chloe's restaurant had closed so we stopped by the lounge to ask if was possible to get coffee and dessert.  The bartender went out of her way to go to the restaurant kitchen to make sure we got what we requested.  Very accommodating, no questions asked.
We have to give shout out's to all the great servers.  You can tell they love their jobs and they take pride in the company they work for while always making their resort guests happy.
I want to give a shout out to Vicki, Jeremy, John (Our server at Cabana's and with a great sense of humor made our business lunch memorable and made our non resort guests feel welcome), Jessica who was our server in both restaurants and always a pleasure to talk to especially when I had my niece and her young son come for a visit during breakfast one of the days during our stay.  She was patient and attentive!  Joe, Jessica C and Chloe's manager Dave were great too.
Room Service:
We utilized room service a few times and were very impressed with the prompt service.  Every time we ordered coffee to the room it was delivered almost immediately. You don't find that anywhere!  Breakfast was also delivered to the room twice in a timely fashion.
Esterra Spa:
I took advantage of the European Relaxation Facial special at the Esterra Spa inside of the DiamondHead Beach Resort.  Holly was excellent and just like the pamphlet says, it was definitely a luxurious experience you shouldn't miss. They have many great spa services like a variety of massages, body scrubs, wraps, Reflexology and more.  I will definitely take advantage of more spa services when we return.
So as you can see from the above review, our stay at DiamondHead Beach Resort was absolutely awesome.  You might have seen a theme of excellent service throughout this review and like I said, the service was second to none.
All the employees of DiamondHead Beach Resort need to be commended for that.  I have honestly never been to a resort that was as perfect in all departments as this one.
I give them 5 stars!